GOG leave Granollers in their wake
While Fraikin Granollers are still on zero points after two rounds of the EHF Cup group phase, GOG are ready for the top-of-the-table clashes against THW Kiel. The Danish side comfortably took their second win and sits level with the hosts of the EHF Cup Finals 2019.
After their 31:28 win at Pulawy, GOG took their second Group Phase victory.
It was GOG's first win over a Spanish side since the 2008/09 season, losing four times since then.
Jon Lindencrone Andersen was GOG's top scorer with eight goals, while Figueras and Rivera scored each five for Granollers.
GROUP D
GOG (DEN) vs BM Fraikin Granollers (ESP) 34:26 (17:13)
After their 22:33 loss against Kiel at home in their opener, Granollers were extremely motivated to take their first points - and before the score stood at 9:9 they had either been ahead or at least equal in Gudme.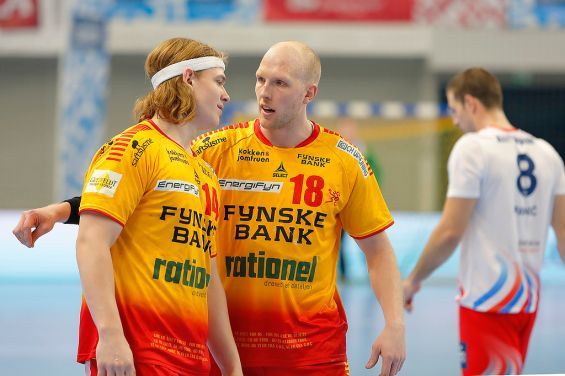 Then GOG struck back, improving their defence and raising their efficiency in attack. Even though Emil Jakobsen even missed two penalty shots in this period, GOG extended the gap quite easily to a four-goal margin at the break. Jon Lindencrone Andersen in particular was on fire in the first half, scoring five of his eight total goals before the break.
Within ten minutes of the restart, the hosts decided what was quickly becoming a one-sided match with a 7:2 run for 24:15. Even being down two players at the same time did not turn the match around, as Granollers missed too many chances to be able to reduce the gap significantly. GOG's biggest advantage was nine goals.
Granollers now have to win both upcoming encounters against Azoty-Pulawy (also on zero points currently) to remain in the quarter-final race.
After the match, GOG coach Nicolej Krickau gave his team plenty of praise, "We are very satisfied with the game today. Our attack was very good against a spanish team with a lot of experience. I'm very happy with how especially the back players played today.

One of the victorious GOG team, Jon Lindenchrone, added, "It was a team-effort today. Our defense was really good and the attack is also starting to look really good. We have a lot of injuries, but we still play good and it gives us a good feeling in the team."

Costly mistakes were the difference maker for Granollers' coach Antonio Rama, "In the beginning our defence was good, and in the first 10-15 minutes the attack also was good, but then we make a lot of mistakes and GOG makes a lot of goals by fast breaks. Then after 20 minutes one of our best players Borja Lancina is injured. He is very important to us. And we are also without Antonio Garcia, who is injured. So the young players had to play."

Vukasin Rakocija of Granollers also praised his oppoents, "GOG played very good today. Very good defence, and the goalkeeper was at the top of his level. We make mistakes and they make goals in counter attack. We have a lot of injured players and the youngest need to play. In the future we will need to improve our attack."

Looking ahead to the matches against Kiel, Rakocija added, "Kiel will be first in the group. They are the favourites. GOG is now favourite to be number two in the group but maybe we can surprise them at home, and Pulawy as well. We will continue and do our best."
Author: Bjorn Pazen/at