Close race between Aalborg and Winterthur
Things look tight between two teams with proud traditions in European club handball before the second leg of Qualification Round 2 in the Men's EHF Cup.
In front of nearly 3,000 spectators in the Jutlander Bank Arena in Aalborg, Danish club Aalborg Handbold were leading 16:12 at half time against Pfadi Winterthur. But through the second half, the Swiss visitors managed to cut the distance down to two goals, as the scoreboard showed 31:29 as the full time buzzer rang.
Both teams were missing key players in the match, which means the return match in Winterthur in a week will be an open affair.
Swiss success
Another Swiss team seems to be considerably closer to the next and final qualification than Pfadi Winterthur.
In an away match, Kadetten Schaffhausen managed to win 30:27 against ZTR Zaporozhye.
A total of 12 goals from Hungarian playmaker Gabor Csaszar contributed a lot to Kadetten having an extremely good chance of progressing when they welcome the Ukrainian club next Sunday.
Switzerland may have trouble getting all their three participants through to Round 3, however.
BSV Bern did get the better start away against HC Spartak in Moscow, but the Russian home team soon took over the initiative. Spartak led by three goals at half-time and were able to add another two goals to their lead in the second half.
They take a 28:23 lead with them to the Swiss capital for the second leg next Sunday.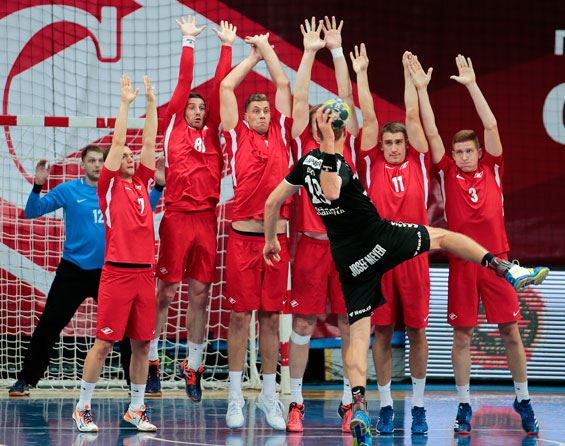 No less than 14 goals from left wing Igor Markovic played a crucial part in Hungarian club Sport36 – Komlö's 34:29 victory at home against Olympiacos SFP from Greece.
34:29 was also the final result of the match as Futebol Clube do Porto defeated Belarusian side SKA Minsk.
Antonio Rodrigues Areia made a strong contribution to the Portuguese club's win by scoring 10 goals.
Hats off for Alpla
Austrian side Alpla HC Hard may dream big about the third qualification round after achieving a 23:23 draw away in the Netherlands against OCI LIONS.
After 12:12 at half time, the scoreboard still showed a stand-off at the final buzzer.
"This was a brilliant performances from our young outfit. My hat off to my team," said Alpla Hard coach Klaus Gärtner after the match, which leaves his men with a really good chance in Saturday's home game.
One team is already through to the next round. In the only double-header this weekend, HC Dobrogea Sud Constanta from Romania proceeded after winning both home games against Talent Robstav M.A.T. Plzen.
Constanta won the first match 28:21 and the second 29:23.
Author: Peter Bruun/jh