EHF Cup title holders Craiova face tough task in group phase
With many strong teams among the 16 remaining contenders in the Women's EHF Cup, none of this season's title favourites could hope for an easy group.
So it came as no surprise that the defending champions, SCM Craiova, were handed a serious challenge when the group phase was drawn at the EHF Office on Thursday.
The Romanian side landed in Group D, where they meet HC Podravka Vegeta again. They already played each other in one the Women's EHF Champions League Qualification Tournaments in September. The team from Croatia advanced to the group matches, and only missed a place in the main round by a single point.
Apart from Podravka, Craiova will also take on Super Amara Bera Bera, which also played EHF Champions League Qualification this season, and NFH-Nykøbing Falster Handbold, which were part of Europe's top-flight competition as recent as last year.
Craiova's Petrisor Albu called it a difficult draw for his team.
"It's OK, we have been to Podravka before, and we hope we go up," he said. "When I look at last season, there is a chance for every team to go to the next level and win."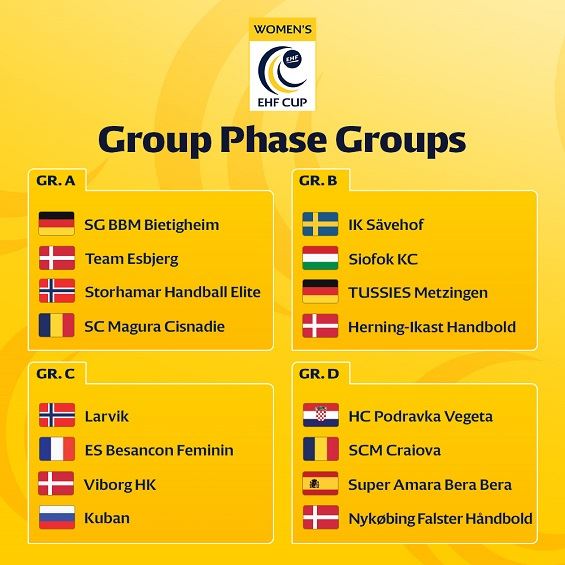 The other three groups will also witness exciting battles for the coveted spots in the quarter-final, when the group phase gets underway right in the first weekend of 2019, on 5/6 January.
The group phase will be concluded in the weekend of 9/10 February, and only the top two teams of each group will continue their EHF Cup journey in the quarter-final.
SG BBM Bietigheim, who have played EHF Champions League this season and were EHF Cup runners-up in 2017, are up against Team Esbjerg, Storhamar Handball Elite and Sports Club Magura Cisnadie in Group A.
"It's a pretty tough group," said Storhamar's Steen Morten Johansen. "It's three top teams, all of them could actually win the whole tournament."
Less than 60' to start the Women's Challenge Cup 2018/19 Last 16 & the Women's EHF Cup 2018/19 Group Phase draw LIVE 🔴
Remember you can follow the whole draw in our Facebook and Youtube channels. pic.twitter.com/zEDfIsEEP1

— EHF (@EHF) November 22, 2018
Group B will be shared by IK Sävehof, which took part in the EHF Champions League Group Matches over the last few months, Siófok KC Hungary, TusSies Metzingen and Herning-Ikast Handbold.
"We wanted to meet with Larvik because it would be a spicy game for us," said Miklos Bitter from Siófok, referring to the Hungarian team's Norwegian coach, Tor Odvar Moen, who moved from Larvik to Siófok last summer.
"Working with Tor Odvar is a great pleasure for us, he is like a grandfather for the team," Bitter said. "But this is a very interesting group, too, so I think it will be really great matches for us."
In Group C, Larvik HK, the fourth team in the competition that came down from the EHF Champions League, can prepare for matches against E.S. Besancon Feminin, Viborg HK and Kuban.
"It's a pretty strong group. We will do our best," Viborg's Henrik Dahl said. "We had a difficult start of the season but it looks quite well right now."
Author: EHF / ew