Defending champions Craiova have a different look
Nobody expected SCM Craiova to go all the way last season in the Women's EHF Cup and win the first trophy in their history. But Bogdan Burcea's side did exactly that, becoming one of the biggest underdog stories ever in a European Cup competition.
However, the target is now on their back, and with the team struggling to replace in time five influential players who had departed, the pre-season did not exactly help Craiova live up to their expectations.
A player exodus

"We are not thinking about winning the EHF Cup this time. We are just thinking of playing good and helping our young players improve," said Bogdan Burcea, Craiova's coach, before the start of the group phase.

Surely, the fans will flock to the arena again to create one of the finest atmospheres in the competition, but the team looks severely weakened after goalkeeper Yuliya Dumanska and playmaker Andreea Pricopi left to join SCM Ramnicu Valcea, while experienced left wing Valentina Elisei, the vice-captain of the Romanian national side, chose Gloria Bistrita.

As a result, Craiova had chemistry issues in both the national league – where they sit fifth after nine matches – and in the Women's EHF Champions League's Qualification Tournament, where they lost the decisive game against HC Podravka Vegeta, 22:21, despite holding a three-goal lead during the first half.

Strong defensive approach again

"There are many new faces in our team, and I expect them to be more experienced after the tough clashes in this group while our more experienced players help guide them through this process," added Burcea.

The Romanian side added some much-needed experience at the end of December, signing Brazilian duo Deonise Fachinello and Mariana Costa from Magura Cisnadie.

Ana Maria Ticu's injury will surely hamper the creativity and the attacking nous of the Romanian team, but as was highlighted in their win against Borussia Dortmund in Qualification Round 3 (38:35), Craiova's defence is once again their best weapon.

"I think we have already proved we are a tough nut to crack. This time the group looks to be more difficult than last season, and, honestly, I think we are starting with the third best chance to proceed from it," concluded Burcea.

"Many tough teams"

With no objective other than to play well and enjoy the competition, Craiova will surely aim to be the surprise package of the competition again.

However, not even the most excited fan is thinking about repeating last season's success. With the Romanian side trying to cut the gap that separates them from other sides, pragmatism and realism seem to be the two words to best describe Craiova this season.

"There are many strong teams, especially the ones that come from the Women's EHF Champions League. Bietigheim looks to be very tough, with many German and Dutch players that played well in the EHF EURO 2018," said Bogdan Burcea.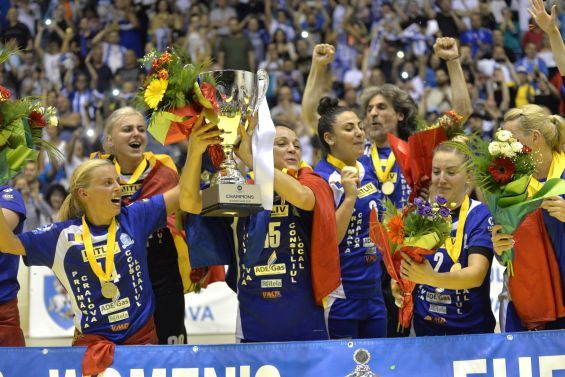 SCM Craiova (ROU)
Qualification for the 2018/19 EHF Cup Group Phase:
Round 3: 38:35 aggregate win against Borussia Dortmund (GER)
Newcomers: Ekaterina Dzhukeva (Kisvardai KC), Timea Tatar (Corona Brasov), Ana-Maria Tanasie (SCM Ramnicu Valcea), Andrea Seric (Kastamonu Belediyesi GSK), Elena Gjorgjievska (Alba Fehérvár), Bianca Curment (SCM Timisoara)
Left the club: Yuliya Dumanska (SCM Ramnicu Valcea), Dana Pricopi (SCM Ramnicu Valcea), Bobana Klikovac (FTC-Rail Cargo Hungaria), Valentina Ardean-Elisei (Gloria Bistrita), Nicoleta Tudor (Dunarea Braila), Aura Popescu (HC Zalau), Cristina Lung (HC Zalau)
Coach: Bogdan Burcea (since 2016)
Team captain: Cristina Zamfir
Opponents in the group matches: HC Podravka Vegeta, Super Amara Bera Bera and Nykøbing Falster Håndbold – NFH in Group D
Women's EHF Champions League records:
Qualification tournament: 2018/19
Women's EHF Cup:
Winners: 2017/18
Other European Cup records:
Cup Winners' Cup:
Last 16: 2015-16
Romanian league: 0 titles
Romanian cup: 0 titles
Read about the other Group D clubs featured in the Women's EHF Cup countdown series here:
#3 HC Podravka Vegeta
#6 Nykøbing Falster Håndbold - NFH
#13 Super Amara Bera Bera
Author: Adrian Costeiu / jw