Dijon's big leap from France's second league to the Cup Winner's Cup
Cercle Dijon Bourgogne's story is perhaps one of the strangest in this season's Women's Cup Winners' Cup. Relegated to the French second league at the end of last season, Dijon owes their qualification to their French Cup final defeat against Metz.

As Metz had already qualified for this season's Women's Champions League, Dijon were next in line for a place in Europe.

"At the end of last season, we didn't know what to think," said captain Beatrice Edwige.

"We were sadder about our relegation than happy about our European Cup qualification. But now, just a few days away from playing some prestigious games, we're really looking forward to it," admitted the 25-year-old.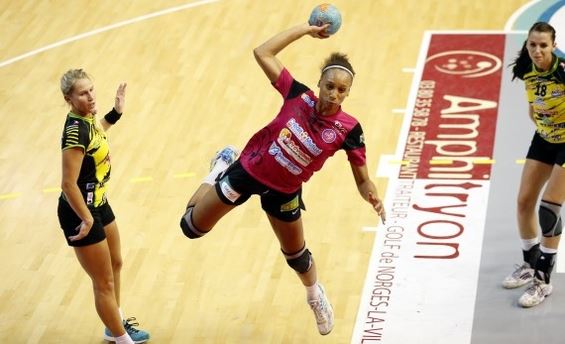 A very young team, but made of many players from the underage French national teams, Christophe Marechal's squad counts a few international players in its ranks: Beatrice Edwige, who formerly played with France as well as two Slovakians, Martina Skolkova and Veronika Vorreiterova.
Playing against Odense won't be an easy task, and the French coach knows it very well.

"Coming in the third round of this competition, we knew that we would have a very strong opponent right away.

"We know that we probably won't win this competition and that we're not favourites against Odense. Our goal is, at least, to qualify for the next round," said Marechal.

Dangerous opponents

The Danish side are very careful when it comes to this double confrontation against Dijon. They know that the French club lead the French second division with six wins in seven games and have only lost one game since September.

"We know that Dijon are doing extremely well at the moment. In the coming days our coaches will get a picture of both the individual players and how the tactics of the team are," explained Bent Nyegaard, Odense's club manager.

If the Cup Winner's Cup isn't this season's main goal for Dijon, Christophe Marechal also knows that European Cup games are great events to bring some well-needed experience to the squad.

In 2003, he won the same competition with Besancon against Kiev, also winning both the French league and cup that season.

"Even if we're not going to take any risks in this competition, I know that you learn a lot faster playing against European teams, than playing only in France," said Edwige, who's been at the club since 2009.

"We're very happy to play these international games. We want to create a result in Denmark, even though we know that winning there would be some kind of a miracle. Then we'll have to do something at home in the return game, to make it to the next round," said the team captain.

Still, Odense will probably face a roster that is weaker on the court, but very team-orientated off the court.

"We get along very well together. We'll go to Denmark on an overnight train, that will be a new experience too," concluded Christophe Marechal with a smile.

Photo credits: Kevin Domas
Author: Kevin Domas / cor