Brest back to winning ways
Sunday's programme in the Women's EHF Cup Group Phase featured two duels between French and Danish teams. While Brest overcame a half-time deficit to defeat Randers by eight goals (23:15), Issy dropped a point at home against Koebenhavn (28:28).
Brest conceded just five goals in the second half against Randers

Viborg claimed their third straight victory in Group C

Gdynia are the only EHF Cup team without a point
GROUP A
Brest Bretagne Handball (FRA) vs Randers HK (DEN) 23:15 (9:10)
Had Randers won in Brest, it would be all square in Group A with all four teams on four points. That scenario looked realistic after the first half, when the Danish team were up by one goal.
However, the hosts made a strong comeback in the second half and reclaimed the leading position.
Last week, Randers beat Brest surprisingly easily (26:18), so on home court the French side obviously were looking for revenge.
Yet their performance before the break was not convincing, and the hosts definitely needed to improve their game.
And they succeeded in the second half, when Brest's superiority was quite evident. Louise Sand did well in attack, ending up with seven goals, and the home team's defence became so rock-solid that they conceded just five goals in the last 30 minutes.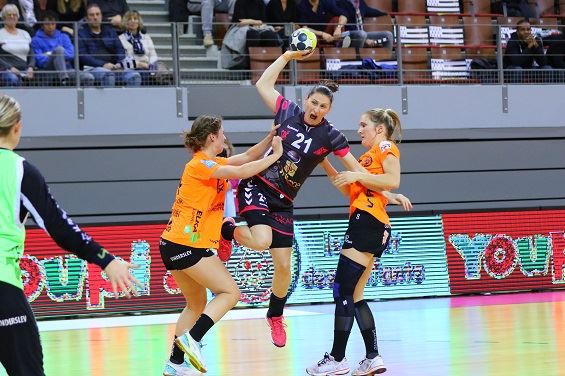 "I think it was the defence of Brest in the second half that created the big difference," Randers coach Niels Agesen said. "Physically, it became more complicated for us because the defence became harder, we had to run a lot but we did not find the solutions."
Winning coach Laurent Bezeau said "I felt that my players wanted revenge" against "a very experienced team that plays handball very well, with good ball circulation."
Bezeau added that "a defeat would have compromised our chances of qualification."
GROUP B
Issy Paris Hand (FRA) vs Koebenhavn Haandbold (DEN) 28:28 (14:13)
Last week, Issy narrowly beat Koebenhavn in Denmark, so at home they hoped to earn another victory, which would have brought them level on points with group leaders Lada.
The hosts were very close to winning again, so ultimately dropping a point is a frustration for them.
Issy were slightly dominant throughout the game, enjoying a one-goal advantage at half-time (14:13) and creating a 25:21 lead midway through the second half.
Koebenhavn fought hard and drew level at 26:26. But as Issy were up 28:27 and Rikke Ebbesen had her shot saved by Silje Solberg 30 seconds from the end, it seemed like the hosts would not let the victory slip.
But when they starting their last attack, Issy lost the ball in the middle of the court, allowing Kelly Dulfer to score from a fast break three seconds before the final buzzer.
GROUP C
Vistal Gdynia (POL) vs Viborg HK (DEN) 21:32 (15:15)
Following Vipers' win over Lada on Saturday, Gdynia remain the only team in the EHF Cup Group Phase with no points.
And as the Polish team had also suffered six defeats in the EHF Champions League, they are on a ten-match losing run in Europe, leaving them with no chance to progress to the quarter-finals.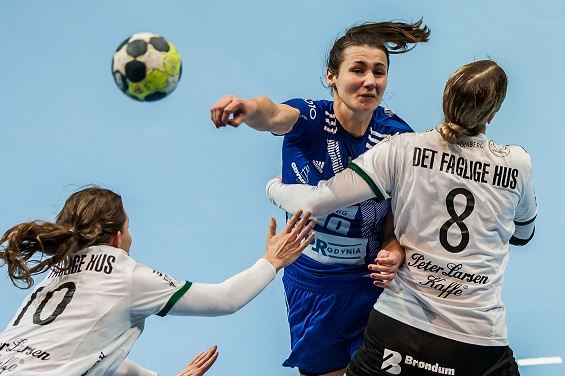 In contrast, Viborg are now top of Group C, ahead of Kastamonu on goal difference. In Gdynia, the Danish team claimed their third straight victory, which was much more convincing than a week before against the same opponent at home (27:24).
While the hosts fought hard in the first half, everything changed after the break when Viborg's defence and Rikke Poulsen in the goal were fantastic. The 12:1 run, which lasted until the 44th minute, shocked Gdynia and paved the way to victory for the Danish team.
Author: Sergey Nikolaev / ew