First six teams ready for Round 2
Six teams have already qualified for Qualification Round 2 of the Women´s EHF Cup, which launches this weekend, as a merger of the previous EHF Cup and the Cup Winners´ Cup, similar to the men's format.

The SPONO Eagles had absolutely no trouble at home against KHF Pristina. In Nottwil, the Swiss team defeated their opponents from Kosovo with a big score of 41:14 in the first leg Saturday, but they were a bit more modest Sunday, winning 30:16.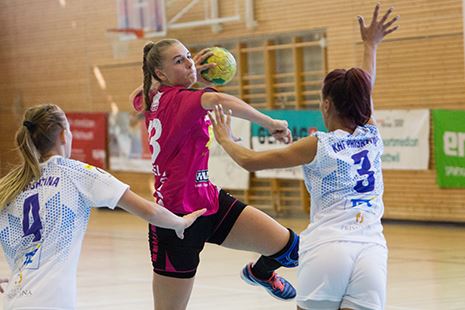 Dinamo-Sinara, who were in the Women´s EHF FINAL4 in 2015 may hope for a long career in the EHF Cup this season. The Russian side proceeded to the next round after two clear wins at home against Success Schoonmak/VOC Amsterdam. The Dutch visitors were defeated 29:19 in the Sport Hall Dynamo Volgograd Saturday and after that win, Dinamo were content by winning half as big 27:22 on Sunday.

The difference was considerably larger in Romania, where ASC Corona 2010 Brasov played host to HZRK Grude. The Bosnian visitors were defeated no less than 43:16 in the first leg in Brasov on Saturday and the Romanian hostesses did not show much more mercy in the Sunday game, which they won 40:17.

Nantes Loire Atlantique HB also had a relaxing weekend at home against Alavarium/Love Tiles from Portugal, who were beaten 47:16 Friday evening and 34:11 on Saturday.

Vipers Kristiansand had no concerns either in gaining access to the second round. After a 52:10 win against Italian Cassano Magnago on Saturday, Vipers coach Kenneth Gabrielsen found it necessary to only record nine players on his team sheet for the return match Sunday – and those nine players were still enough to secure the Norwegian home team a 37:12 win.

The sixth and last double-header was a much closer contest. In Antalya, Turkey, ACME-Zalgiris Kaunas from Lithuania managed to put their Turkish hosts Muratpasa Belediyesi SK under pressure in both matches. After a 30:27 win for Muratpasa on Saturday, Kaunas were actually leading 12:10 at half time of the Sunday game, but the home side managed to come back to win 25:24 and therefore, secure their ticket for the next round.

Close first legs
There were also close encounters in a few of the first legs, but the final say of the teams that move on will not be decided until next weekend.
European debutants, Nykøbing Falster HK, seem to be heading for the second round, after winning the first leg of the Scandinavian derby away against Swedish Lugi HF 25:23.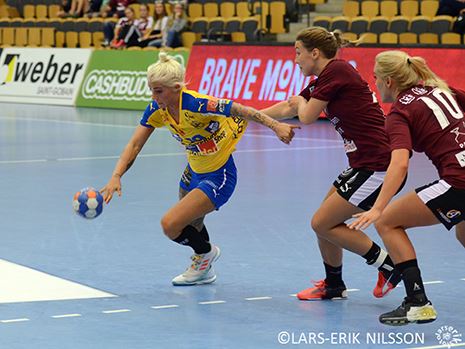 Two players, Marjun Falkvard Danberg from the home team and Marina Dmitrovic from the visiting team, scored 12 goals each, as Romanian CSM Polesti narrowly deafeated 26:24 against hosts, Faroe Island champions HC Neistin. On the other side, things are still pretty open between Skuru IK and DHC Slavia Praha, after the Swedish team won the first match 26:22 at home.
Author: Peter Bruun/tm