Grafenhorst and Green decide penalty thriller
What a thriller. Saint-Raphael Var Handball levelled a five-goal deficit with the final buzzer of the regular time, but then lost the penalty shoot against SC Magdeburg. The 32:31 win means that the podium of the LIQUI MOLY EHF Cup Finals is All-German.
Yves Grafenhorst scored a new individual goal all-time-record at EHF Cup Finals by 12 goals after Füchse wing Hans Lindberg scored 11 times yesterday
Nine players scored in the first ever penalty shootout in the history of EHF Cup Finals, before Dani Sarmiento was the first and only to miss
Including this final penalty, Magdeburg's goalkeeper Jannick Green saved an overall of 16 shots
28 of 32 Magdeburg goals were scored by wing players
Saint-Raphael managed to catch-up a 17:22 deficit by five straight goals
PLACEMENT MATCH 3/4: Saint-Raphael Var Handball (FRA) vs SC Magdeburg (GER) 31:32 (27:27, 12:13)
When Jannick Green saved the crucial last shot, all his Magdeburg teammates jumped onto him. On the other side, the Saint-Raphael players were disappointed but tried everything to console their unlucky teammate Daniel Sarmiento.
Though the game's importance was not as high as a semi-final or final, the placement match was combative and thrilling for more than 60 minutes. From the first minute, both sides fought for every centimetre on the court, willing to finish their trip to Göppingen victorious.
Saint-Raphael had the better start, backed by a Romanian duo. Goalkeeper Catalin Popescu saved brilliantly and Alexandru Simicu scored well. But when SC Magdeburg strengthened their defence and thus had the opportunities to start a series of counter attacks, they took the lead.
A clear improvement by goalkeeper Jannick Green and an extraordinary efficiency of Yves Grafenhorst, who scored six goals from seven attempts in the first half, provided the three times EHF Cup winners (1999, 2001 and 2007) with their first three-goal advantage at 9:6 in minute 18.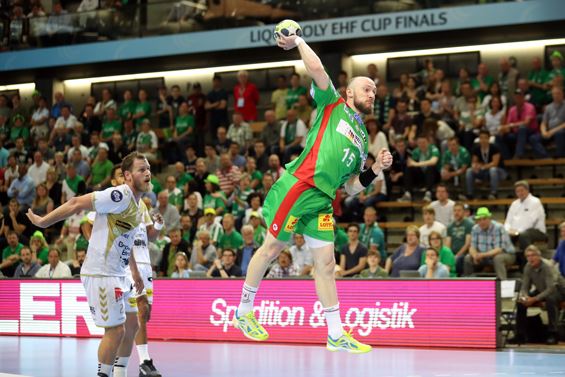 French grit
But in contrast to their lacklustre performance in the semi-final against Berlin (24:35), Saint-Raphael did not give up early, but struck back and managed to reduce the deficit to only one goal at the break (12:13). Centre back Dani Sarmiento, who had had a black day on Saturday, took the responsibility in this period, scoring mostly from the penalty line.
Like in the semi-final, SCM got an extra boost by their more than 300 singing and chanting fans, who were like a red wall in their corner of the EWS Arena. The fans celebrated an extremely high number of wing and counter attack goals by their team.
When the score was 18:15, Grafenhorst and right wing Daniel Petterson each had seven strikes on their tally, and right wing Robert Weber had netted three penalty shots. Thus, 17 of 18 goals were scored by wing players.
But another Magdeburg player was even more in the focus. Goalkeeper Green was the main reason why Saint-Raphael only scored three times in the first 10 minutes of the second half. By minute 46, when he saved a Sarmiento penalty, the Danish Olympic champion had made 15 saves during the game.
Sarmiento scores – then misses
As Grafenhorst was still on fire, netting in for the tenth time for 21:17, Magdeburg seemed to be in full control of the match. However thanks to a quadruple strike within only 70 seconds and some incredible saves by Popescu, Saint-Raphael were suddenly back on track, while Magdeburg had lost their pace completely. Consequently, coach Wiegert took his time-out 10 minutes before the end.
The French side levelled the result several times, but could not take the lead, though Magdeburg were extremely shaken. When Grafenhorst first scored his twelfth goal for the 27:26 and then blocked a shot in defence, SCM seemed to be on the winners' way.
Just 18 seconds before the end, Wiegert took his final time-out. But his players caused a missed pass, and with a buzzer-beating hammer shot from more than 10 metres, Sarmiento levelled the score again, resulting in the first ever penalty shoot-out in the history of the EHF Cup Finals.
The Spaniard's last-ditch brilliance could not quite last and he ended the match as the only player to miss his penalty in the shoot-out, as Green saved his shot to secure victory for Magdeburg.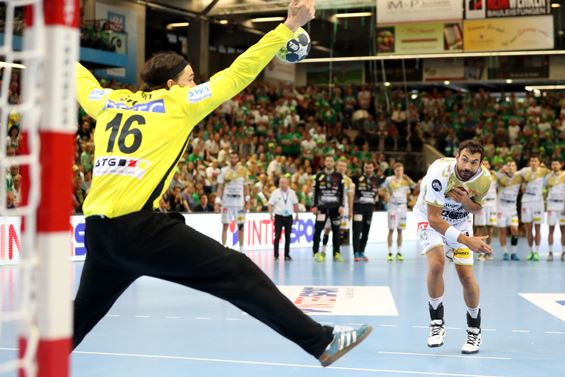 Spirit regained
Despite the loass Saint-Raphael coach Joel da Silva said he was proud of his men.
"The plan was to give back the spirit to the team," said da Silva. "Even during the night, the players prepared on Magdeburg. Today our players played with hearts, in contrast to yesterday. We showed a good game, and for matches like those we train so hard. I am happy to be coach of this team. The winner today was handball. In Germany, they know Saint-Raphael now, this was our message."
Saint-Raphael captain Aurelien Abily added: "For us it was difficult to motivate ourselves. I hope we come back to the EHF Cup Finals next year and show a different face."
"We played an emotional game today, I am very proud on the performance of my team" said Magdeburg coach Bennet Wiegert, saying he was impressed with the turnaround from Saturday's semi-final loss. "Saturday I was very unhappy, today I am proud – that is sports, that is handball."
Left wing Grafenhorst agreed.
"This was a well-organised tournament, we were well-prepared by our coach for both games. Though we gave our heart yesterday, it was not enough, so we had to face a huge disappointment. Today we showed character and can be proud on this performance," he said.
"Our crowd was amazing," Grafenhorst concluded.
Author: Björn Pazen / jh