Two triple winners fight for chance of fourth trophy
At least one German team will be part of Sunday's final of the LIQUI MOLY EHF Cup Finals in Göppingen.
The question is whether the host can ended their poor run or if SC Magdeburg can continue their good form and take revenge for last year's elimination in the EHF Cup quarter-finals.
SEMI-FINAL 1: SC Magdeburg (GER) vs Frisch Auf Göppingen (GER)
Saturday, 20 May, 15:00 hrs. local time
Which three-time EHF Cup winner will remain in the race for their fourth trophy?
The statistics and the current form speak in SC Magdeburg favour, but the home advantage goes to Frisch Auf Göppingen.
SCM, the EHF Cup Winners in 1999, 2001 and 2007 have high hopes of winnning an anniversary title after lifting their last international trophy ten years ago.
Frisch Auf Göppingen were the last club to win the old format of the EHF Cup in 2012 defending their 2011 title - and now hope to be the first side to defend their 2016 title in the current format.
But the hosts of the LIQUI MOLY EHF Cup Finals are on the back of a series of defeats.
Right after winning their sixth and last group match of the EHF Cup - skipping the quarter-finals and qualifying directly for the finals - they lost the last six Bundesliga matches, including a 29:19 loss against Wetzlar last weekend, which has sent Göppingen down to 12th position in he Bundesliga.
"If we want to have a chance in the semi-final against Magdeburg we have to improve by 100 per cent," said coach Magnus Andersson.
On the other hand, Magdeburg are flying high at the moment: in total in Bundesliga and EHF Cup, the team of coach Bennet Wiegert has not been defeated in the last 22 matches.
During this time, they have beaten Göppingen twice in Bundesliga by a single goal each time (33:32, 29:28).
And Magdeburg were the last team to beat Göppingen in the EHF Cup, one year ago in the quarter-finals (29:27).
Since then, Frisch Auf have won all their matches in this competition. While SCM's record the season in the EHF Cup is nine wins and one defeat (in the group phase against Kolding).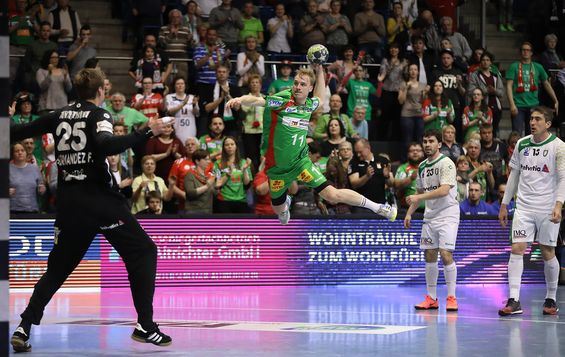 "We go to Göppingen to win this trophy. It will be a tough fight in the semi-finals, as we do not care how many matches we have won and Göppingen have lost. We are truly ambitious to win the next international trophy after ten years," commented left wing Matthias Musche.
Magdeburg will be accompanied by more than 300 fans in Göppingen who will all have a spring in their step after finding out that Danish Olympic champion goalkeeper Jannick Green and left back Michael Damgaard, just extended their contracts at the 2002 EHF Champions League winners.
"We hope for a full arena and to give us the boost we need to make our dream come true," said Göppingen's manager Gerd Hofele.
Göppingen could become the fourth hosts in the fifth edition of the EHF Cup Finals since 2013 to make it to the final: In 2013 (Nantes), 2015 (Berlin) and 2016 (Nantes again) it happened, but only Berlin (against Hamburg) took the trophy.
In 2014, Pick Szeged were the only non-German winner of this competition since FC Barcelona in 2003.
The overall balance of two of the most traditional German handball clubs leans in favour of Magdeburg: In 39 matches, SCM won 24 times, tied four times and were defeated 11 times only. "Statistics do not count on Saturday. It is about 60 minutes, nothing else," underlined SCM coach Wiegert.
Author: Björn Pazen / bc