An unexpected birthday present
Juan Carlos Pastor will definitely not forget his 46th birthday. On that day (Sunday) he took the second biggest achievement of his coaching career by leading Hungarian side Pick Szeged to the trophy of the EHF Cup after winning the final in Berlin against Montpellier 29:28. His biggest win was becoming world champion with the Spanish team in 2005, after beating Croatia in Tunisia.
Those two days at the EHF Cup Finals in Berlin changed the life of Pastor, as he reveals in this exclusive interview with eurohandball.com.
eurohandball.com: When you look back on the time from your arrival on Friday until the awarding ceremony after the final on Sunday - what happened to your team?
Juan Carlos Pastor: We arrived here with confidence, but were supposed to be the underdogs in this field of participants. However, I was sure that we can make something in Berlin. I never expected to win this trophy on Friday, but I - and the whole team - knew that the key to a big success would be a victorious semi-final against Füchse Berlin. I was very confident, as during my work as a coach in Spain I had won several final tournaments with two matches in two days. And we strongly believed that if we beat Füchse Berlin in the semi, we might have a chance to win the final.
eurohandball.com: Is this trophy the best birthday present you have ever received?
Juan Carlos Pastor: To be honest, the biggest gifts in my life are that I can coach handball teams and to be with my family. But to be even more honest, the best presents are the ones you don't expect. So at first reaching the final on my birthday and then winning this title on my birthday was the icing on my birthday cake.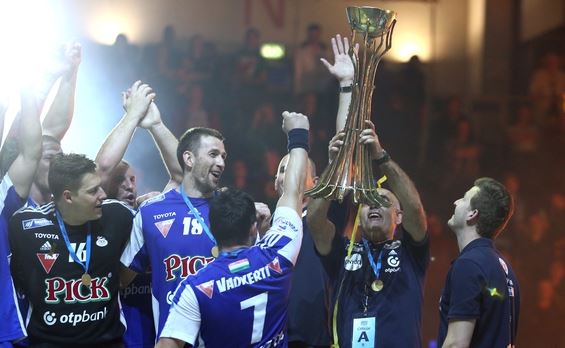 eurohandball.com: Roland Mikler was your key to success and was awarded best goalkeeper of the tournament. Is it bitter that the final against Montpellier was his last match for Pick Szeged before leaving to Veszprem?
Juan Carlos Pastor: This is sport. Players come and players go. But in case of Roland Mikler it was the brilliant fact that Roli gave all he could until the very last second of his contract. It is a pity that he leaves, but we all still have the hope that he might return to Szeged some day. We signed Jose Manuel Sierra for the next season, another world class goalkeeper. As I said, in sports players come and go.
eurohandball.com: What were the coaches' regulations for his team at the winners' party?
Juan Carlos Pastor: There were no regulations. The only thing they needed to remember was that the team bus to the airport left on Monday morning at 5.45 hrs. They could celebrate where ever and how ever they want. They deserved this party. And definitely this party will continue in Szeged.
eurohandball.com: Not only did you make history by becoming the first Hungarian club team to win the EHF Cup, but you continued history of Spanish coaches winning titles with Hungarian sides, after Ambros Martin led Györ to the trophy at the MVM EHF FINAL4 two weeks ago. Does this trophy put big pressure on your fellow countryman Carlos Antonio Ortega, who made it to the VELUX EHF FINAL4 with Hungarian side Veszprem?
Juan Carlos Pastor: Hahaha, great question! I do not think that there is any pressure on Carlos Antonio Ortega and his team. They made it to Cologne and they have the same role as Kiel and Barcelona, belonging to the favourites of this competition. Veszprem will have the same fate as we had in Berlin. Two matches in 24 hours, with the option to win or lose. Why should Ortega not manage to win this trophy? Everything is open - and in case he makes it, this would be a historic moment for both Hungary and Spain. But just wait and see what happens.
Author: Björn Pazen / cor