Russian teams seek strong away results
The tickets for the Women's EHF Cup Group Phase 2018/19 will be booked this weekend as Qualification Round 3 comes to a conclusion. While some teams seem to have a safe buffer from the first leg, others face a difficult task in the all-decisive second-leg matches.
Four games on Sunday will be streamed live on ehfTV.com
Lada not yet sure to make the group phase
Like last year, Lada Togliatti are regarded a main title contender. But the Russian side is not sure yet to make it to the group phase.
The Russian league leaders beat Siófok 30:26 at home last week, but the four-goal margin could easily come under threat against the strong Hungarian side. The match on Sunday at 18:45 CET will be streamed live on ehfTV.com.
Also on Sunday, fellow Russian team Zvezda Zvenigorod are in a slightly better starting position following their five-goal home victory against Magura Cisnadie (29:24).
A bigger task awaits Kuban, which lost the first leg at home to Mecalia Atletico Guardes, 27:26. Yet the Krasnodar-based side harbour hopes for a strong comeback in Spain. The match throws off on Sunday at 18:10 CET and will be streamed live on ehfTV.com.
"At home something went wrong, but we want to prove that it was a mere accident. We are capable of winning in Spain and going through," Kuban playmaker Yaroslava Frolova said.
Craiova cautious against Dortmund
While the Russian side need good results to realise their group phase dreams, some other teams have done all but enough to book their spots among the last 16 teams.
TusSies Metzingen claimed an impressive 28:19 win at Banik Most, leaving the 'Pink Ladies' with every chance to finish the job on home court on Saturday.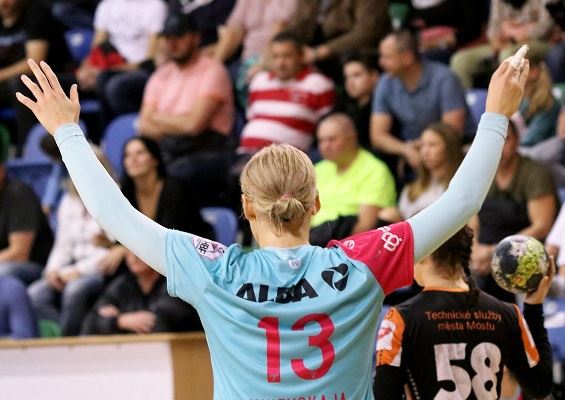 Also, Super Amara Bera Bera clearly defeated Dunaújváros 26:18 in Hungary last week, and the team from Spain should be able to go safely through from here. The match on Sunday at 12:00 CET will be streamed live on ehfTV.com.
The defending EHF Cup champions, SCM Craiova, also have a good change of progressing after winning 19:17 against Borussia Dortmund in Germany last week.
However, the Romanian team's coach, Bogdan Burcea, is cautious ahead of the second leg, which is scheduled for Sunday.
"Our opponent is an extremely strong team, they are better than I expected. Our success in Germany doesn't guarantee anything, because we expect a more difficult game at home," he said.
Another Romanian participant, SCM Ramnica Valcea, face an uphill task after losing against Herning-Ikast Handball in Denmark 22:16. The return leg in Romania on Sunday at 14:30 CET will be streamed live on ehfTV.com.
Nothing clear in Nordic derby
Just like the Russian contenders, all Danish teams in the competition will play the second leg away from home. For Viborg, that should not be a problem after last season's semi-finalists comfortably beat Jagodina 31:16 last week.
The clash between Esbjerg and Paris, however, is still wide open. The Danish side won just narrowly on home court (29:28), so the return in France on Sunday easily could go either way.
Hardly anything is clear in the Nordic derby between Nykøbing and Höör. Following NFH's 27:24 win in Denmark, Hoor certainly hope to put things right in the return leg in Sweden on Sunday.
"We played a pretty good game at Nykøbing, but there are some details to work on," Höör coach Ola Mansson said. "One thing is certain: we must play our best game if we want to win."
Author: Sergey Nikolaev / ew