Esbjerg and Storhamar go through, Kuban and Nykobing miss chances
Two more tickets to the Women's EHF Cup quarter-finals have been booked following Sunday's matches, as Esbjerg and Storhamar in Group A secured progression.
Kuban in Group C and Nykøbing in Group D also had a great chance to go through, but could not keep a winning score against Besancon and Craiova respectively.
Siófok maintained their 100% record
Podravka dropped their first points in the competition
Siófok's Andrea Kobetic and Herning-Ikast's Helene Fauske are joint top scorers of the group phase with 38 goals
GROUP A
Sports Club Magura Cisnadie (ROU) vs Team Esbjerg (DEN) 19:32 (10:15)
Esbjerg had entered this match with seven points from four games, and it looked almost certain that the Danish side would book a quarter-final ticket in the game against the Group A outsiders.
And so it happened – following a 13-goal victory, Esbjerg now definitely go through, while Magura suffered their fifth consecutive defeat.
The 35-year-old Ada Emilia Moldovan had another good game for the Romanian team – she netted nine times and is now the fourth-best scorer of the Group Phase. But as in previous matches, her performance was little help to Magura.
Esbjerg enjoyed a good start, taking a 6:1 lead, and although the hosts fought back to 10:8, the Danish team restored a five-goal gap at half-time.
And in the second half, the difference between the rivals was even more obvious. Sanna Solberg was particularly impressive for Esbjerg, finishing the match with seven goals.
Storhamar Handball Elite (NOR) vs SG BBM Bietigheim (GER) 29:28 (12:16)
Storhamar needed a win to go through, and they grabbed two points in the nerve-wracking final minutes, securing a quarter-final spot. The Norwegian team may even finish top of Group A if they beat Esbjerg away from home in Round 6.
For Bietigheim, the result will be a big disappointment, as the German team had opened the Group Phase with two wins. But they lost twice against Esbjerg, and were defeated by Storhamar despite a clear advantage in the first half.
The visitors had a perfect start and led 8:3, then 12:4 before Storhamar had a 4:0 run to come back into the game. At the break, Bietigheim enjoyed a four-goal advantage, but the hosts continued to improve and pulled ahead 27:26 five minutes from the buzzer.
Bietigheim still had their chance – they led 28:27 in the last minute, but after a time-out called by Arne Senstad, Storhamar drew level, and Betina Riegelhuth's shot in the last seconds gave her team two points.
GROUP B
Herning-Ikast Handbold (DEN) vs Siófok KC Hungary (HUN) 22:34 (8:20)
Both teams had secured their quarter-final spots in the previous round, but Herning-Ikast still had a chance to fight for the top position in Group B. Yet Siófok were too strong for them. Following a 12-goal victory, the Hungarian team maintained their perfect record, while their Danish rivals are certain to finish second.
"They taught us a lesson today. That's never a good feeling. We've had a good run of late, winning six games in a row, so we have to eliminate this game as soon as possible and get back on track, focusing on the good performances we've had lately," said Herning-Ikast's coach Kristian Kristensen.
The game also featured a duel of the competition's top scorers, Siófok's Andrea Kobetic and Herning-Ikast's Helene Fauske. It was not the best day for Kobetic, who netted just three times. In her turn, Fauske scored seven goals and caught up with her rival – now both have 38 goals in the group phase.
Kobetic's relative lack of impact did not have any negative effect on her team. Estelle Nze Minko was Siófok's top scorer with eight goals, helping the Hungarian side to dominate throughout the game. With a 20:8 half-time scoreline, there was no doubt about the winner, and the visitors went on to grab their fifth straight victory.
GROUP C
Kuban (RUS) vs E.S.Besancon Feminin (FRA) 28:29 (15:15)
For Kuban, this result was frustrating. The Russian side only needed a draw to seal a quarter-final spot with one match to go, yet they lost by just one goal and allowed Besancon to go level with them on four points.
Kuban still have a strategic advantage on head-to-head results, as they won 26:23 in France. Everything will be decided in the last round, when the Krasnodar-based team will play at Larvik, and Besancon will host group leaders Viborg.
"We are happy to win in Krasnodar. This is the first Besancon's victory in Russia. Unfortunately, we were not able to win with a bigger difference, so now not everything is in our hands. In the next week we will support Larvik in the game with Kuban," Besancon's coach Raphaelle Tervel said.
In Krasnodar, the French side showed a good attacking game, with wings Chloe Bouquet and Marine Dupuis doing particularly well. However, Polina Kaplina did a solid job in Kuban's goal, while Diana Golub was again unstoppable in attack, ending up with eight goals.
Following a 15:15 draw at half-time, Kuban pulled ahead 23:20 midway through the second half. Yet Besancon made an impressive comeback to take a 28:26 lead.
Golub and Antonina Skorobatchenko's goals as well as Kaplina's save against Alizee Frecon helped Kuban to draw level at 28:28, yet Alice Leveque's shot in the last minute gave two points to Besancon.
"It was a poor game by our back court and line players. We didn't score a lot of goals, and Besancon's goalkeeper played well. We didn't perform even the most basic tasks and made a lot of mistakes. I'm afraid a trip to Larvik will not do us any good, we should have won today," concluded Kuban's coach Evgenii Trefilov.
GROUP D
Super Amara Bera Bera (ESP) vs HC Podravka Vegeta (CRO) 32:26 (13:12)
Four victories in as many games had seen Podravka booking an early ticket to the quarter-final, but their winning run came to an end at Bera Bera. The Spanish team claimed a 32:26 win and took a convincing revenge for the 32:29 defeat in the opening round.
The Brazilian goalkeeper Renata de Arruda made a big contribution to her team's victory, as she not only made numerous saves but even scored a goal herself. And in attack, it was Elke Karsten who shone for the home team, ending the match with eight goals.
Bera Bera had a slow start, trailing 6:3 after 10 minutes, but then woke up. At half-time, they had just a marginal advantage at 13:12, yet after the break the Spanish team scored 19 goals, which was a key to their second victory in Group D.
With four points, Bera Bera are still third-placed in Group D, but now they have a chance to go through.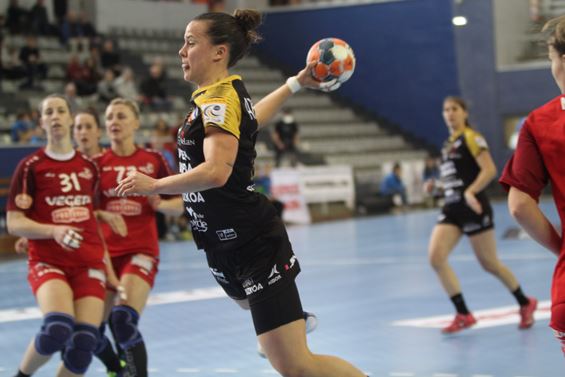 Nykøbing Falster Handbold-NFH (DEN) vs SCM Craiova (ROU) 20:20 (8:9)
Bera Bera would have lost a chance of progression had Nykøbing beaten Craiova at home, but the game in Denmark ended in a draw, making the situation in Group D even more tangled.
Nykøbing needed a win to secure their quarter-final ticket, and the home team were up 20:17 three minutes before full-time, yet the Romanian side pulled off a strong comeback to draw level.
The defending champions Craiova are now bottom of the group, yet they still have a chance of going through. If they beat Bera Bera, and Nykøbing lose at Podravka in Round 6, the Romanian team will finish second, as they have an advantage over the Danish team on head-to-head results.
A month ago, Nykøbing lost 18:12 at Craiova, and now they missed a chance to take revenge. The home side led 6:3 midway through the first half, yet Craiova were up 9:8 at the break. And in the second half, NFH again dominated for the most part, but squandered their advantage and put the chances for a quarter-final spot in danger.
Author: Sergey Nikolaev/jh