Russian debutant and Serbian penalty-killer debutant on top
For the first time a Russian player has been awarded EHF Player of the Month by the federation's panel of international handball journalists.
The honour goes to Daria Dmitrieva, though unfortunately her international club season is over as Lada Togliatti have lost to CSM Craiova of Romania in the Women's EHF Cup Quarter-finals - despite 12 goals by the playmaker.
There is another first-time winner on the men's side: Serbian goalkeeper Tibor Ivanisevic, who made the headlines as penalty-killer in the Group C/D play-offs and who helped Danish side Skjern Håndbold to the quarter-finals of the VELUX EHF Champions League.
Exactly one year after Veszprém's Momir Ilic, Ivanisevic has become the second player from Serbia to receive the award.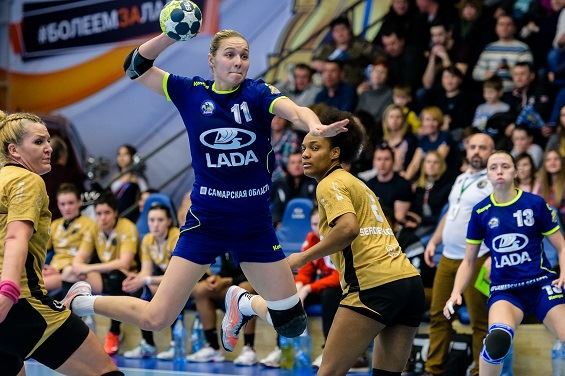 Dmitrieva: "Very pleasant to be elected the best player of whole Europe"
Daria Dmitrieva won the award thanks to her performances for both Lada Togliatti and the Russian national team.
"It's very pleasant to be elected the best player of March in whole Europe. I think I was chosen because I scored quite a number of goals," the 22-year-old Russian playmaker says.
However, Dmitrieva's teams enjoyed mixed fortunes in March.
While Lada did well in the domestic league, they were surprisingly eliminated in the Women's EHF Cup Quarter-final by CSM Craiova. Dmitrieva's eight goals helped Lada win the first leg in Romania (25:23), yet the Russian side lost the return match at home by three goals (26:23) and said goodbye to the competition.
"It was really disappointing. We wanted to go all the way and win the European trophy, but failed to do it," says Dmitrieva, who topped the EHF Cup scorers list for a while but has been overtaken by Viborg's Ann Grete Nørgaard.
"Maybe the reason was that we had a tough schedule, and we put much energy into the Russian league games, where we finished first in the regular season," she adds.
Also with the Russian national team Dmitrieva faced opposition from Romania in March. While Russia won the first match of the EHF EURO 2018 Qualification doubleheader in Toliatti 30:25 thanks to 10 Dmitrieva goals, Romania kept both points at home in Cluj Napoca (26:25) a few days later, when Dmitrieva scored only twice.
"The first game was just great. For the first time ever, I played with the national team in Togliatti, my home town. The arena was full, and the great atmosphere helped us to win," Dmitrieva says. "Unfortunately, we could not play on the same level in Romania. Maybe the long and exhausting journey took its toll. All in all, it was a difficult month."
Now the playmaker is focussing on Lada's play-off matches in the Russian league, where they are going to face Kuban in the semi-final. However, she will still closely follow the European club competitions.
"In the Champions League, I support Rostov as they are a fellow Russian team," Dmitrieva says. "And in the EHF Cup, it's hard to say who will win the trophy but I think Craiova and Vipers are going to play in the final."
EHF Player of the Month – March 2018: Female
1. Daria Dmitrieva (Lada Togliatti/RUS)
2. Cristina Neagu (CSM Bucuresti/ROU)
3. Stine Oftedal (Györi Audi ETO KC/NOR)
4. Jovanka Radicevic (HC Vardar/MNE)
5. Katrine Lunde (Vipers Kristiansand/NOR)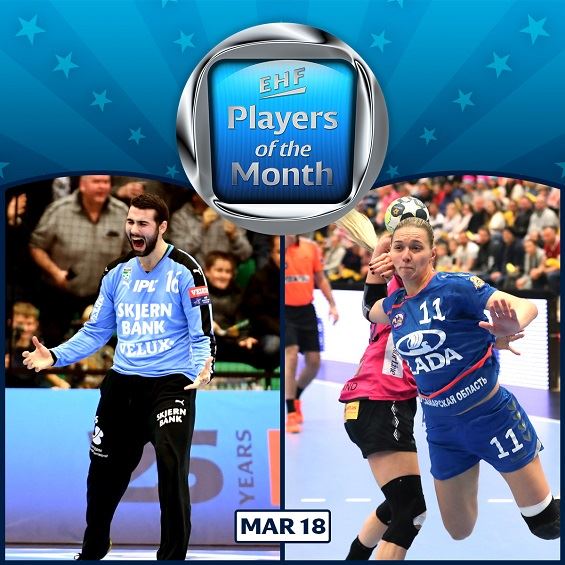 Ivanisevic: "My award belongs to the whole team"
"This cannot be true, this is not real. Really?"
Tibor Ivanisevic admits he had "never expected to be on top of this ranking, never ever."
Still, the 27-year-old Skjern Håndbold goalkeeper did have an extraordinary performance when he saved seven second-half penalties against Motor Zaporozhye in the Group C/D play-offs of the VELUX EHF Champions Leagues.
Things went even better for Skjern when Ivanisevic's saves, especially in the return leg, were a major contribution to the side's sensational victory over Veszprém in the Last 16.
Having won 32:25 on home court, Skjern could afford to lose the second leg by five goals (34:29) in Hungary to celebrate their biggest international success so far.
In the quarter-finals against French side HBC Nantes, Ivanisevic can crown his farewell tour with a ticket to the VELUX EHF FINAL4 in Cologne.
"Of course we dream about Cologne, mainly after those sensational matches against Veszprém. Two matches are ahead of us and everything can happen," says Ivanisevic, who will join German side HSG Wetzlar after this season.
Ivanisevic does not overrate his own performances, saying the success against Veszprém was "a result of our great team, therefore my award as EHF Player of the Month belongs to the whole team. I am only one part of this great squad."
Ivanisevic moved to Skjern in January 2017 from the 10th-ranked side in the Hungarian league, Gyöngyösi KK. Until then, he had only competed in Champions League Qualification - with Bosnian side RK Borac m:tel - and played two matches for the Serbian national team.
But thanks to his development at Skjern, he was nominated for the EHF EURO 2018 in Croatia, where he played his first major event. And with the Serbian team currently in transition, he has become a c ore part of the squad alongside Nemanja Zelenovic, Drasko nenadic and Nemanja Ilic.
The top 5 in the vote for EHF Player of the Month March features two more goalkeepers: Nantes' Cyril Dumoulin, whom he will face in the quarter-finals, and Danish Olympic champion Niklas Landin.
Ivanisevic is the fourth male goalkeeper to be awarded by the EHF journalists, after Andreas Wolff (Kiel/Germany) in January 2016, Gonzalo Perez de Vargas (Barcelona/Spain) in April 2017 and Arpad Sterbik (Vardar/Spain) in October and November 2017.
EHF Player of the Month – March 2018: Male
1. Tibor Ivanisevic (Skjern Håndbold/SRB)
2. Melvyn Richardson (Montpellier HB/FRA)
3. Cyril Dumoulin (HBC Nantes/FRA)
4. Marko Vujin (THW Kiel/SRB)
5. Niklas Landin (THW Kiel/DEN)
Author: Sergey Nikolaev, Björn Pazen / ew