Göppingen make it to their home final
Frisch Auf Göppingen are one step closer to defending their EHF Cup title.
On home court, the 2011, 2012 and 2016 EHF Cup winners won the thrilling all-German club team semi-final against Magdeburg 33:29. Their match winner was Slovenian goalkeeper Primoz Prost with 13 saves. Their final opponent will be decided between Berlin and Saint-Raphael.

• Göppingen made it to their fifth EHF Cup final - the only one they lost was in 2006
• The semi defeat ended Magdeburg's impressive series of 22 unbeaten matches in Bundesliga and EHF Cup
• Top Göppingen scorers were Zarko Sesum by nine and Marcel Schiller with eight goals
• For the second straight time, Göppingen ended SCM hopes in the EHF Cup, after losing the 2016 quarter-finals to them
• Magdeburg's top scorer was Michael Damgaard with eight goals
SEMI-FINAL: SC Magdeburg (GER) vs Frisch Auf Göppingen (GER) 29:33 (14:16)
The fans were singing "finale, finale", as the players danced and jumped on the court, while their beaten opponent left the EWS Arena heads held low.
The 33:29 win for the hosts and defending champions was tight, but fully deserved, as Frisch Auf were ahead for the full 60 minutes. For Göppingen it was the ninth win in their ninth EHF cup matches this season.
"It was a perfect day for me and the team, and I am really happy to contribute to this victory. Our fans were amazing, they were like an extra player for us. We had a lot of problems this season and some injuries prior to this game, so it was really amazing.
"I hope we have the same strength and power tomorrow. We need the same aggressiveness, focus and discipline today. We were confident with the arena behind us, was a great feeling today. It was a tough game and we had the luck to win. I hope the hall we be full again tomorrow," Sesum said after the game.
Before throw-off, an impressive opening show made the fans jump and sing, with live music, cheerleaders and the presentation of the newly designed trophy by ski jumping world champion and Olympic gold medallists Carina Vogt.
Already during the player presentation the vociferous travelling fans from Magdeburg fans, all dressed in red, boosted their side with songs and chants – so there was also a battle in the stands, as the home fans created incredible noise in the sold-out arena (5,600 spectators), among them German national team coach Christian Prokop.
In the first half, the flow of the game went in Göppingen's favour. Backed by the saves of goalkeeper Primoz Prost, the hosts were ahead throughout the first 30 minutes.
In the beginning, it was a run-and-gun game, as both sides only focused on attack, and let their defensive duties slip.
After a 4:1 gap, the defending champions easily forged ahead to 14:10 in the 20th minutes, when Serbian left back Zarko Sesum had already netted four times.
On Magdeburg's side, Danish Olympic champion Michael Damgaard had six goals before the break.
"I hate to lose, but Göppingen were the better team today. I am really disappointed, but on the other hand: what Göppingen did today was amazing. After a season like this, we should have achieved more, but we were not there today. Magnus Andersson did everything right today, Primoz Prost was sensational like hell and Zarko Sesum played like an idiot (smiling) – in the end: it was a great, great performance of Göppingen," Damgaard commented.
Another player intermediately turned the tide for the 2002 Champions League winners: goalkeeper Dario Quenstedt, who had replaced Jannick Green around the 20-minute mark shut up shop, and this helped Magdeburg greatly.
Göppingen did not score for ten minutes, as Magdeburg reduced the gap to 13:14.
Finally, a buzzer-beating fifth goal from Sesum confirmed the 16:14 half-time lead for Frisch Auf.
Right after the break, the Serbian backcourt shooter could not believe his eyes: twice within only 70 seconds his shot hits both posts then the ball jumped out again – and no goal!
Göppingen could have easily taken a bigger gap, but missed too many chances and had too many easy mistakes.
.@FRISCHAUFGP Tim Kneule after beating @SCMagdeburg in the #ehfcupfinals semi-final pic.twitter.com/JyWQqKdXJV

— EHF Live (@EHF_Live) May 20, 2017
But they still had Prost, who not only saved Robert Weber's penalty in the 36th minutes, but 13 in total.
Therefore – and as the SCM defence was not as stable as before, the hosts remained ahead and extended the gap from 19:18 to 25:20 (46').
The home fans knew who to thank, shouting "Primoz, Primoz", with the keep only encouraging the spectators to shout louder.
Sesum was on fire again. Netting for the eighth time (26:21, 49') causing another time-out from Magdeburg's coach Bennet Wiegert.
He changed the goalkeeper back to Green and his defence to an extremely offensive one with Yves Grafenhorst pushing up high in front.
Like in the middle of the first half, Göppingen ran out of steam again, while the visitors managed to reduce the gap to 28:26 with four minutes left.
But time was ticking against Magdeburg, when FA Göppingen local hero Marcel Schiller scored making it 31:28 – his seventh goal putting the result beyond doubt.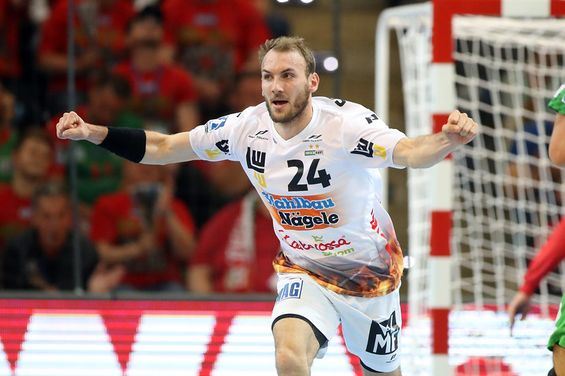 Coach of SC Magdeburg, Bennet Wiegert commented: "We had many problems today, our performance was not the best, we had problems with the start and the defence and our shots were not perfect. Now we are speechless."
His counterpart Magnus Andersson said: "I am very proud on my team, they played fantastic today, with a lot discipline and fighting spirit from the first to the last second. To fight like this was the key. Magdeburg put pressure on with their fast-breaks. But we played with discipline in attack and when the key players got tired, we had chances to replace them without losing quality. Now I hope we manage to rest for the final to have another game like this."
Author: Björn Pazen / bc