Saint-Raphael and SCM duel for third spot
While Magdeburg were shocked in their semi-final defeat against LIQUI MOLY EHF Cup Finals 2017 hosts FRISCH AUF! Göppingen, their opponent Saint-Raphael Var Handballl hope to learn for the future in Sunday's placement match.
PLACEMENT MATCH 3/4: Saint-Raphael Var Handball (FRA) vs SC Magdeburg (GER)
Sunday, 21 May, 14:30 hrs
"We are in a state of shock," just like their fans in the stands, the players and officials of SC Magdeburg hoped for much more than a 33:29 defeat against LIQUI MOLY EHF Cup Finals host Frisch Auf Göppingen. For coach Bennet Wiegert it was even more disappointing not to make it to the final: "We are speechless," he said.
As usual, the placement 3/4 placement match is a tough battle for both contenders: "I truly don't know how to motivate my players," Saint-Raphael coach Joel da Silva said while searching for a solution after the demolishing 35:24 defeat in their semi against Füchse Berlin on Saturday night.
Now the French league runners-up from the 2015/16 season, have their sixth match against a German side in this EHF Cup season. The third time (one win, two defeats) they duelled with Berlin, twice they beat Melsungen in the quarter-finals, and now it is Magdeburg.
For Danish line player Alexander Lynggaard it is more a pleasure and a privilege to lock horns with a team like them: "We have another great opportunity to compare ourselves with one of the strongest teams in the world.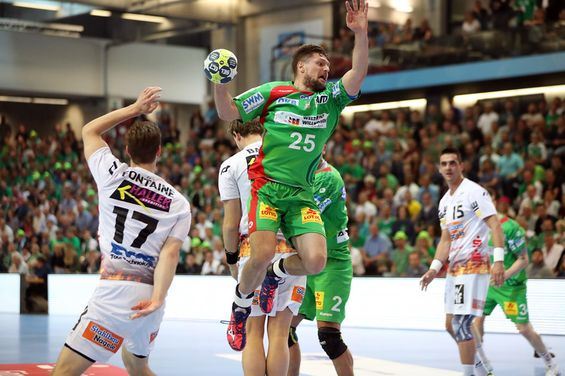 German teams face tough opponents every week, they have a tough programme in the Bundesliga, and German teams play a different style of handball than we are used to in France. I hope to be able to compete; it is a pleasure to play against such great teams."
By comparing the size of the fan groups in the EWS Arena in Göppingen, the advantage definitely is on Magdeburg's side with more than 300 travelling supporters: "We hope that we do not disappoint them again," said coach Bennet Wiegert prior to the placement match, after the impressive run of 22 undefeated matches in both the EHF Cup and the Bundesliga came to a end against Göppingen on Saturday.
The second and third top scorer of the competition will clash in this duel, with Saint-Raphael's Raphael Caucheteux (77 goals) still hunting leader Hans Lindberg (Berlin/85), Magdeburg's Danish left back Michael Damgaard added nine goals to his tally against Göppingen and how has 66 goals on his account.
The last time, Magdeburg faced a French team in the EHF Cup, was in the 2015/16 season, beating and drawing eventual finalists HBC Nantes once in the group phase.
Author: Björn Pazen / bc