Seasoned finalists meet for semi-final battle
Two teams used to European battles will face each other in the second semi-final of the EHF Cup in Nantes on Saturday.

In fact, you might even call Chambery Savoie Handball and Frisch Auf Göppingen 'regulars' at this level of international competition.

The French side played the EHF Champions League five seasons in a row, between 2008 and 2013, and are now trying to match their past glories in the EHF Cup.

Göppingen have won the EHF Cup twice, in 2011 and 2012, finished as runners-up in 2006 and made it to the final weekend in Nantes back in 2013.

Men's EHF Cup Finals, Semi-final
Chambery Savoie Handball (FRA) vs Frisch Auf Göppingen (GER)
Saturday 14 May, 17:30 local time live on ehfTV

Considering both teams' history, it is difficult to pick a favourite ahead of Saturday's match. Even the coaches think it will be a 50/50 affair, as Chambery assistant coach Danilo Brestovac explains:

"This is a game between two teams which are I think are almost equal. We have had a decent run since the beginning of the competition, but so have Göppingen.

"They've been able to beat Nantes and Holstebro this season, and qualifying for the finals against Magdeburg was not a certainty. I guess fate will pick the team which can handle the pressure best."

In terms of experience, both teams are also level. Four players from the German side were on court four years ago in the EHF Cup Finals, and seven took part in Chambery's last VELUX EHF Champions League campaign.

The final ingredient in this recipe for a thrilling 60 minutes is that both teams are extremely hungry for European success.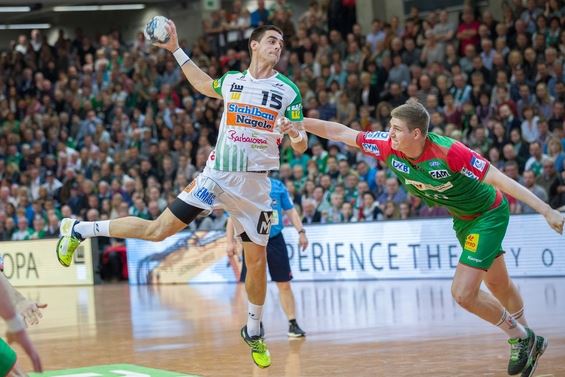 Chambery have never lifted a continental trophy, and the last domestic trophy they won came three years ago.

"This is a unique chance for two teams that are not that used to winning trophies to get their hands on one," says Chambery's Croatian right wing Jerko Matulic.

"It adds more pressure for sure, but there are experienced players on both sides and we have proven this season that we were able to handle it."

They truly have. Chambery began their campaign by beating HC Sporta Hlohovec in first round of qualification matches before defeating title holders Füchse Berlin to qualify for the group phase.

With four wins and two draws the group phase seemed like a walk in the park, but the quarter-finals were not. It was only in the last fifteen minutes of the return leg that Chambery secured their place at the final weekend, when they defeated fellow countrymen Saint-Raphael Var Handball.

Göppingen also had to beat a team from their own nation in the quarter-finals, and their victims were SC Magdeburg.

With even the most detailed statistics so closely aligned it is clear that it will be a close call as to who proceeds to the final on Sunday.
Author: Kevin Domas / cg, cor