Oliveira de Almeida launches Granollers to bronze
Thanks to a stellar performance of their Brazilian goalkeeper, Fraikin BM. Granollers managed to overcome their deception in order to beat Chambéry in the third place final of the EHF Cup. "We didn't want to leave Nantes empty-handed" said centre back Marc Canellas. "For sure, we wanted to play the big final, but this is better than nothing."
Men's EHF Cup Finals, 3/4 Placement match
Chambery Savoie HB vs Fraikin BM Granollers 21:25 (10:11)
It is never easy to come back from a semi-final loss, but in the beginning of the game, you could easily tell that the Spaniards had had a better night than the French. The clue? Cesar de Almeida's performance.
The Brazilian, guarding Granollers' goal, was astonishing in the first fifteen minutes of the game. Using every part of his body he could, leg, arm, hand, he stopped nearly every ball and soon, his team was leading 8:3.
After this terrible start, Chambéry decided that enough was enough and that a little bit of defending might help their pursuit of the bronze medal.
Strengthening their defence and playing quicker, they managed to create gaps in Granollers' defence.
Enjoying the fact of being forgotten on his wing, Cédric Paty finally found the rhythm to beat Almeida, while the Spaniards took their foot off the gas a little bit. As a result they only lead by one goal at half-time, 11:10.
Nothing changed for nearly twenty minutes in the second half. The two teams traded saves, traded goals, but could not separate from each other on the scoreboard.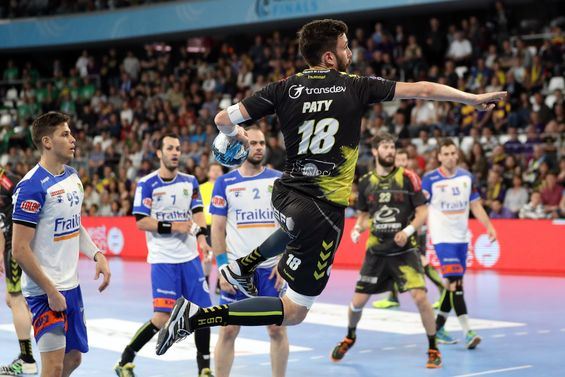 Oliveira de Almeida came out of his box again to propel his team to the win. Two important saves, one Chambéry turnover, and the Spaniards were up ahead by three within the blick of an eye.
"In the end, our defence was better and we managed to score some easy goals," said coach Carlos Viver, before praising his goalkeeper's performance: "He was magnificent and key in this victory."
With their goalkeeper in form again and FerranSole unstoppable on offense with a 10-goal performance, Chambéry could not hope to match their opponents, even if Cédric Paty was on fire on his right-wing, scoring nine.
"The disappointment of yesterday was too much for us to take. We wanted so much to be in the final, it was hard to focus again," explained Edin Basic, after the final 25:21 loss.
Author: Kevin Domas / cor