Bregenz celebrate anniversary in Athens
An impressive milestone will be reached by Bregenz Handball when they visit the current No. 1 in Greece, A.E.K. Athens, in the first leg of the Men's Challenge Cup Round 3 on Friday.

In the Austrian's club history, this will be the 100th match in a European Cup competition. Founded in 1946, Bregenz have been a regular contender in various international competitions. In recent years, they have mainly played in the EHF Cup but also had several appearances in the EHF Champions League Group Phase, most recently in 2008/09.

This season, '100' has been a special number to Bregenz before, as they passed the 100-goal mark in Round 2 when they defeated Colos SS4 Ciobruciu of Moldova 114:34 on aggregate, a unique achievement.

Bregenz's upcoming opponents also have a long and proud tradition in European handball. Athens played in the qualification tournaments for the VELUX EHF Champions League a few times, and they reached the final of the Challenge Cup last season.

Four double-headers to be played this weekend

While most of the 16 ties in Round 3 will only be decided after the second leg next week, there are also four double-headers to be played this weekend.

First of all in the Sport Complex Olympiets in Mogilev on Friday, when HC Masheka will host HC Dobrudja from Bulgaria, with the second leg to be played the following day. Belarusian side Masheka are back in Europe after six years, while Dobrudja are in the Challenge Cup for the fifth year in succession, entering the competition this round.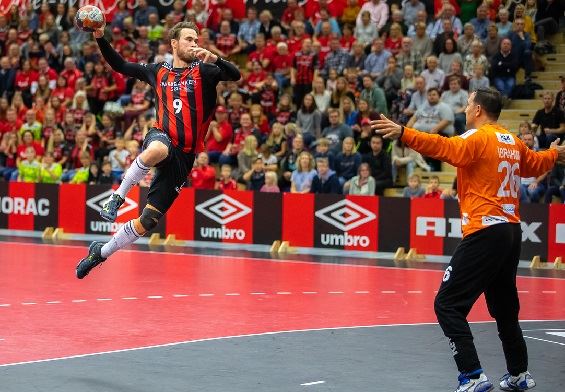 One of the other double-headers this weekend sees HC Dukla Praha and Kauno Azuolas-KTU Kaunas from Lithuania go head to head in Prague twice. While those matches will be Dukla's first in the competition this season, Kaunas already have two games behind them, after eliminating Montenegrin side MRK Jedinstvo in the previous round.

Arendal want to reach at least the semi-final

Last weekend, Riihimäen Cocks became the first Finnish team to win a match in the VELUX EHF Champions League. But Cock's arch rivals in their domestic league, Dicken, have already booked two wins in the Challenge Cup, as they eliminated Tiraspol from Moldova in Round 2.

In Round 3, the Helsinki-based team will face former EHF Champions League participants RK Partizan, with the first leg to be played in the Sportski Centar Vozdovac in Belgrade on Saturday.

OIF Arendal want to reach at least the semi-final in the Challenge Cup this season. On Sunday, the Norwegian team will host Göztepe SK in the Sparebanken Sör Amfi Arena for the first leg. It will be the second Turkish opponent for Arendal after eliminating Selka Eskisehir Hentbol SK in Round 2.

With a squad consisting entirely of Turkish players, Göztepe will have their first appearance in the competition this season, after reaching the Last 16 last year.
Author: Peter Bruun / ew