Turda earn superb win to take the upper hand against AEK
AHC Potaissa Turda could become the fourth Romanian team to win the Challenge Cup on Sunday, if they manage to defend the huge 33:22 advantage they took in the first leg in Cluj.
The home team was composed, sharp and took the same no-nonsense approach to every attack, being rewarded for their game plan with a huge win.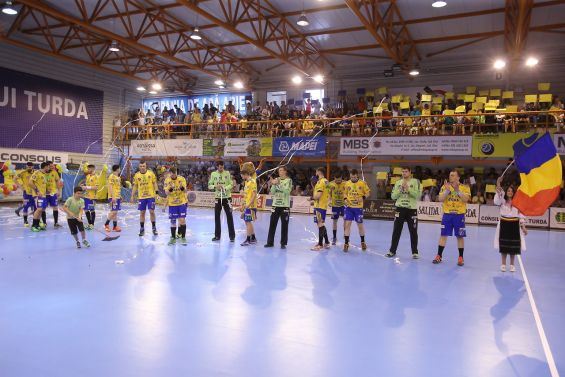 Men's Challenge Cup Final, first leg:
AHC Potaissa Turda (ROU) vs AEK Athens (GRE) 33:22 (14:11)
One year ago, AHC Potaissa Turda were left in tears after losing the Men's EHF Challenge Cup final against Sporting CP.
The Romanian outfit vowed to get back in contention one year later and, after an impressive campaign, had bounced right back to play for their first ever European title against AEK Athens.
While their own arena in Turda was too small for the huge interest generated for the final, Potaissa moved to Cluj, only 30 kilometres away and were greeted by 2,500 rousing fans. But the Greek side did not back down after a slow start and enjoyed a 3:0 run to take their first lead of the game.
However, playmaker Marius Szöke quickly became unstoppable for the hosts, spurring a 10:3 run for Turda, who jumped into a 12:6 lead, to the sheer joy of their fans.
A 14:11 lead at half-time could have been greater but for a lack of efficiency from Turda, but the Romanian side came back sharply after the break and improved the 48% shot precision from the first 30 minutes to take a 19:12 lead, after an all-round effort.
With a focused mindset that saw Turda play every attack as if the scores were tied, the hosts jumped to a 24:14 lead after 46 minutes, with Georgica Cantec, Alexandru Asoltanei and Radu Ghita in superb form, as the three players scored seven times each.
Ultimately, A.E.K. could not do anything to prevent the 33:22 loss, which sees them having a mountain to climb in the second leg, which will be played on Sunday in Athens.
As the game will take place in the OAKA Olympic Hall in the Greek capital, it is expected that at least 10,000 fans will cheer for their team in their attempt to make a miracle comeback.
If Turda win the competition, it will be the second Romanian team to win a European competition this season, after SCM Craiova took everyone by surprise in the Women's EHF Cup.
Author: Adrian Costeiu /at