Challenge Cup draw pits Gran Canaria against Ankara in Last 16
If Rocasa Gran Canaria want to add to their excellent track record in the Women's Challenge Cup, they first will have to get past Ankara Yenimahalle BSK in the Last 16 in February.
The Spanish side won the tournament in 2016 and finished runners-up to MKS Perla Lublin last season. They will play the first leg in the Last 16 at home in the weekend of 2/3 February 2019, a week before traveling to Turkey for the second leg on 9/10 February.
Gran Canaria and Ankara were just two of the 16 teams remaining in the Women's Challenge Cup 2018/19 who learned their next opponent during the draw at the EHF Office in Vienna on Thursday.
Gran Canaria were one of two Spanish teams in the draw, alongside Rincon Fertilidad Malaga. They were paired with KHF.Istogu of Kosovo, and also start with a home game.
Two other nations also have more than one contender still in the competition: Sweden and Netherlands.
The Swedish sides each start with an away game: Boden Handboll IF at Maccabi Srugo Rishon Lezion in Israel, and Kristianstad Handboll at Femina Vise in Belgium.
And the Netherlands will be guaranteed of having one team in the quarter-final, as Geonius V&L and H.V. Quitus were drawn against other. As there was no country protection rule in place for this draw, fans in the Netherlands can now look forward to two Dutch derbies in the Women's Challenge Cup.
All first legs of the Last 16 will be played in the weekend of 2/3 February, followed by the return legs on 9/10 February.
Women's Challenge Cup Last 16 2018/19: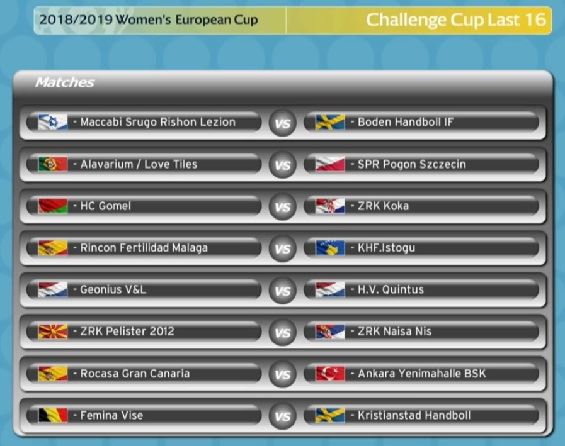 Author: EHF / ew