Sixteen goals in one weekend from Djordjo Perunicic
Djordjo Perunicic, a left back for RK Partizan 1949, had a particularly great weekend, as his Montenegrin side were hosting A. S. S. Spes from Cyprus for a double-header this weekend. Twenty-three-year-old Perunicic scored 16 goals over the two matches, 11 in the first leg and five in the second, as Partizan secured their access to the Last 16.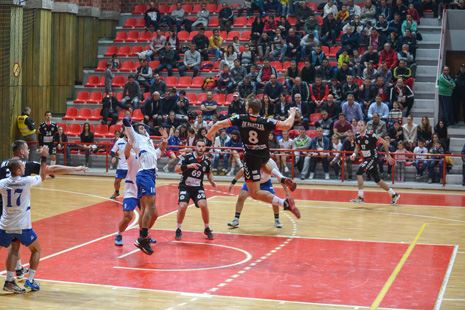 Partizan won the first match in the Hala Sportova 27:21 before winning the second leg with almost identical digits, 27:22 this time.

HKM Sala from Slovakia are following Partizan to the Last 16. In the Mestská Sportova Hala in Sala, HKM won the first leg of their double-header against KH Kastrioti from Kosovo 31:29. After this narrow win on the first day, the home team left no doubt in the second match, which they won clearly 29:21.

Another Slovakian side are very close to joining Sala in the Last 16. MSK Povazska Bystrica were demanding in their 31:23 away victory during their first leg against RK Partizan from Belgrade. Taking an eight-goal lead with them from the Serbian capital brings Bystrica very close to the next round.

TSV St. Otmar St. Gallen are almost as close to the next stage as Bystrica. The Swiss team left Lithuanian Klaipeda with a 35:28 win against the Klaipeda Dragunas. Czech centre back, Ondrej Zdrahala, made his contribution to the win with 10 goals.

Haslum Handballklubb have an ambition of winning the Challenge Cup this season, but this goal may be hard to reach for the Norwegian top club after their visit to Reykjavik this weekend. Icelandic Valur defeated Haslum as clearly as 31:24, leaving the Norwegian side with a tough task in the return match on Saturday.

HC Vogosca Poljine Hills can also dream very realistically about the Last 16. Not even the support from 3000 Macedonian spectators could save HC Pelister Bitola from a 23:21 defeat, which obviously gives their Bosnian adversaries a big advantage in the return match on Saturday.
Author: Peter Bruun/tm