Höör closing in on 2nd Challenge Cup final
H 65 Höörs HK are heading for their second Women's Challenge Cup final in the history of the club following a 28:16 win at home against DHC Sokol Poruba on Saturday. In the other semi-final, which is played as a double-header, HC Lokomotiva Zagreb edged Virto/Quintus 24:23 with their second leg to follow on Sunday.
H 65 Höörs HK (SWE) vs DHC Sokol Poruba (CZE) 28:16 (13:8)
The 2014 champions, Höör, have come very close to their second Challenge Cup final in history. The Swedish team took a huge step towards another final Saturday afternoon.
Sokol Poruba took an early 4:2 lead in Sporthallen Höör but the hosts soon took over the initiative. They levelled at 5:5 before soaring ahead 12:6.
After a five-goal lead at half-time (13:8), they continued to increase the distance as the second half progressed and even led by 14 goals with a few minutes left.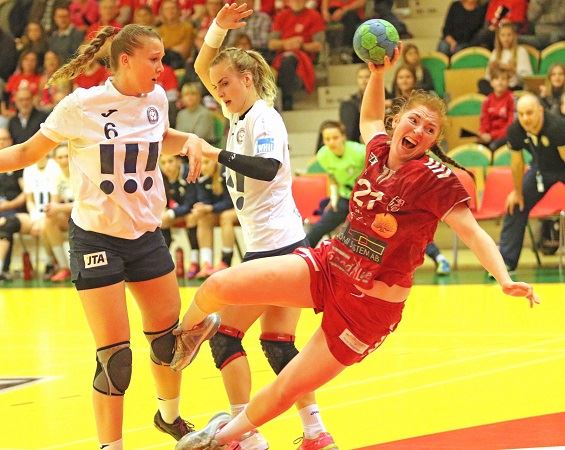 "Before the match I would have considered a win between five and 10 goals to be a great result," Höör coach Ola Månsson said. "12 is far more than we expected, and it is obvious that our chances are good now. Sokol Poruba did not find any solutions against our defence."
The 19-year-old centre back Emma Lindqvist scored seven goals for Höör, while three players all scored three for Poruba.
The second leg in Ostava is scheduled for next Saturday.
HC Lokomotiva Zagreb (CRO) vs Virto/Quintus (NED) 24:23 (15:11)
Quintus have given up their home right for the second leg, meaning that both matches are being played as a double-header in Zagreb this weekend.
But giving up their home advantage does not mean that Quintus, which consist entirely of Dutch players, have given up the overall win, as was demonstrated clearly on Saturday evening.
Lokomotiva won the first leg, which formally was their home game. But the result was so close that nothing has been decided yet, even though the Croatian team have another 'home' game in the return match Sunday.
After an equal start, Lokomotiva built a slim lead of two and three goals, before going four up at the interval (15:11).
In the second half, the home team also led by four goals several times but the visitors rallied to level the score at 22:22 and even take a one-goal lead, before Zagreb scored the final two goals of the match for their narrow win.
Marina Glavan scored seven goals for Lokomotiva, just as Daisy Hage did for Quintus.
The second leg in the Dom Sportova of Zagreb is taking place on Sunday evening.
Author: Peter Bruun / ew