Odense beat Lublin by 17 goals, Bistrita salvage draw
Coming off a draw in their Women's EHF Cup group phase opener last week, Lublin found themselves in a rut early in the game against Odense, as the Danish powerhouse proceeded to hand the Polish champions their worst ever loss in the Women's EHF Cup, 35:18.
Elsewhere, ÉRD were down by five goals in the 33rd minute against CS Gloria Bistrita-Nasaud, but found a way to take a three-goal lead in the 56th minute, only for the Romanian side to earn a point after a superb comeback, 25:25.
Odense top the group with four points from two games and look already in a strong position to advance to the quarter-final
Lublin had only 11 players on the sheet due to injuries
the previous worst loss for Lublin was against Randers, another Danish side, 34:24, in the EHF Cup quarter-final in 2009/10
experienced right wing Alexandra do Nascimento scored six times for ÉRD in her comeback to Romania, where she played two seasons for HCM Baia Mare
left wing Nicoleta Dinca scored seven times for Bistrita
GROUP C
Odense Handbold (DEN) vs MKS Lublin S.A. (POL) 35:18 (18:13)
Traveling to Denmark with only 11 players, it was always going to be a tough ask for Lublin to surprise a strong team like Odense.
The Danish side was eyeing their second win in a row in the group and they duly delivered, after a strong start that made Lublin take an early time-out after only eight minutes.
Dutch playmaker Nycke Groot was her usual self, orchestrating everything in the back line, as she scored twice and assisted other three goals in a 5:0 run that saw the Danish side take an 8:2 lead.
There was no stopping from a relentless Odense side, as backs Mie Højlund and Stine Jørgensen were flawless, with another 5:0 run taking the gap to 10 goals, 13:3.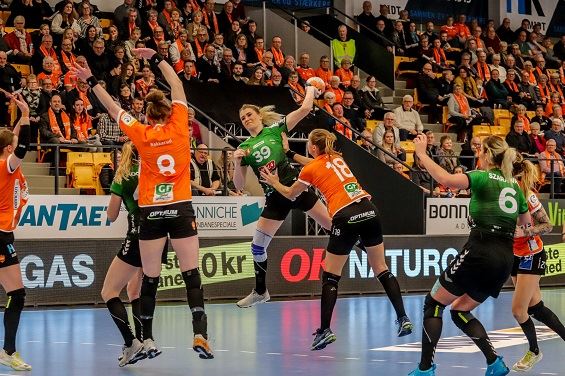 Lublin created their own 4:0 run to cut the gap to five goals at the break, 18:13, but there was much more to come from Odense.
The Danish duo of Stine Jørgensen and Kathrine Heindahl combined for eight goals to lift Odense once again, as Lublin's lack of depth was decisive in the second half.
The Polish side only scored five times in the last 30 minutes, as Odense steamrolled their way to a 35:18 win, handing the Polish side their worst loss ever in the competition.
"We were really concentrated throughout the match," Odense team captain Kamilla Larsen said. "Especially in the second half, we closed them down in the defence, and therefore they did not score that many goals. Their faults gave us the chance to score a lot of counter goals."
Odense coach Karen Brødsgaard praised her team for "playing a stabile defence throughout the match."
"We tried out some things that we have worked on in our practice and we adjusted these things throughout the match," Brødsgaard said. "Of course this is an important win for us, and I think that we are on the right track."
CS Gloria 2018 Bistrita-Nasaud (ROU) vs ÉRD (HUN) 25:25 (15:11)
As expected, the arena was sold out for Bistrita's first ever home game in the group phase of the Women's EHF Cup and the motivation rubbed off on the players, which set off to a superb start.
With that amount of experience, this was never going to be a doubt, as the Romanian side jumped to a 6:4 lead after 12 minutes, firing from all cylinders.
Right back Natallia Vasileuskaya and left wing Nicoleta Dinca were the main scorers, but ÉRD made sure to have a good circulation of the ball and tied the game, with six different players scoring the first six goals.
But Bistrita worked harder, sorted out their defence, as ÉRD's shot efficiency plummeted to 58 per cent in the first half.
Therefore, it was no surprise that the Romanian side clawed their way to a 15:11 lead at the break, with Vasileuskaya spearheading the line with four goals.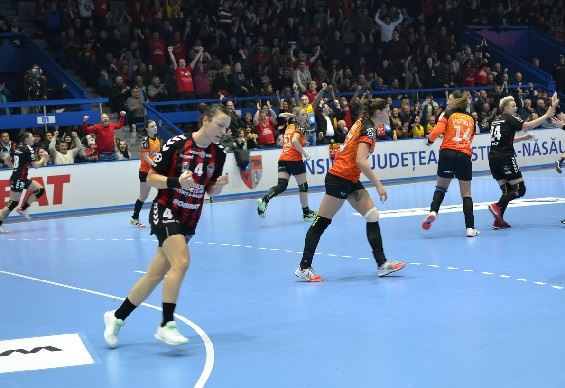 The two sides continued to trade goals, with left wing Nicoleta Dinca in fine form for Bistrita, but ÉRD had a 7:0 run between the 34th and 47th minute to erase the deficit and take the lead for the first time, 20:17.
Despite Bistrita trying, their shot efficiency plummeted from 63 per cent in the first half to 51 per cent in the second part, which was part of their undoing.
But it was not for the lack of trying. The Romanian side produced their own 3:0 run to tie the game, 24:24 and ultimately earned their second draw in the group, 25:25.
"It was a very tough game against ÉRD, who have many international players," Bistrita head coach Horatiu Pasca said. "I am very sad because at the beginning of the second half we lost our focus … We have to improve our game and focus to win the next games."
ÉRD head coach Edina Szabo called it "a good game, a hard game."
"Our goalkeeper performed very well in the second half," Szabo said. "We took a four-goal advantage but Bistrita fought back. I think the draw is right."
The Romanian side is now second in the group, undefeated, but winless, while ÉRD will have their chance to win the first game of the season next week, against Lublin.
Author: Adrian Costeiu / ew