Six teams battle for two quarter-final spots
Last week's games could have determined all eight teams for the Women's EHF Cup Quarter-final, but Kuban in Group C and Nykøbing in Group D let their tickets to the next round slip away in the closing minutes.
Ahead of the final round of the group phase, the situation in both groups is complicated. Kuban will compete with Besançon and Larvik for the second place in Group C, while Nykøbing are challenged by Bera Bera and title holders Craiova in Group D.
GROUP A
Team Esbjerg (DEN) vs Storhamar Handball Elite (NOR)
Saturday 9 February, 13:00 hrs local time
Both Esbjerg and Storhamar are already through to the quarter-final

Unbeaten Esbjerg will win the group in case of a win or draw

Storhamar will take the first place if they claim victory Saturday
SG BBM Bietigheim (GER) vs Sports Club Magura Cisnadie (ROU)
Sunday 10 February, 17:00 hrs local time, live on ehfTV.com
Neither team has a chance of progressing

Bietigheim are certain to finish third; Magura will stay bottom of Group B

Bietigheim are on a three-game losing run; Magura have lost all five games so far
GROUP B
Siófok KC Hungary (HUN) vs TusSies Metzingen (GER)
Sunday 10 February, 15:00 hrs local ime, live on ehfTV.com
Siófok have a perfect record and will finish top of the group

Third-place Metzingen cannot qualify anymore

Siófok's Andrea Kobetic is joint top scorer of the group phase, with 38 goals
IK Sävehof (SWE) vs Herning-Ikast Handbold (DEN)
Sunday 10 February, 15:00 hrs local time
Last-place Sävehof get final chance to claim some points in this competition

Herning-Ikast have six points and will finish second in the group

The Danish team's Helene Fauske has 38 goals, like Siofok's Andrea Kobetic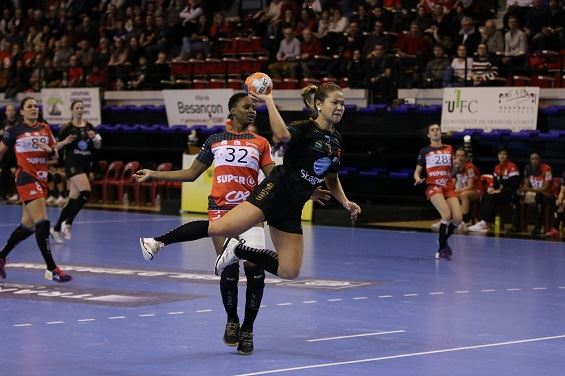 GROUP C
Larvik HK (NOR) vs Kuban (RUS)
Saturday 9 February, 16:00 hrs local time, live on ehfTV.com
Kuban are through with a win at Larvik, or with a draw if Besançon do not beat Viborg

Larvik could qualify if they take a very big win against Kuban, and Viborg beat Besançon

Kuban are without coach Evgenii Trefilov, who has been hospitalized because of heart problems
E.S. Besançcon Feminin (FRA) vs Viborg HK (DEN)
Sunday 10 February, 18:00 hrs local time, live on ehfTV.com
Viborg have a perfect record and are certain to finish top of the group

Besançon stayed in the race after snatching two points in a thriller against Kuban

Besançon will go through if they get a better result than Kuban in Round 6
GROUP D
HC Podravka Vegeta (CRO) vs Nykøbing Falster Handbold-NFH (DEN)
Saturday 9 February, 17:30 hrs local time, live on ehfTV.com
Despite losing at Bera Bera in Round 5, Podravka are certain to stay top of the group

Nykøbing almost qualified for the quarter-final but dropped a point in the last minute against Craiova

Nykøbing will go through with at least a draw at Podravka
SCM Craiova (ROU) vs Super Amara Bera Bera (ESP)
Sunday 10 February, 13:30 hrs local time, live on ehfTV.com
Bera Bera are third with four points, Craiova last with three

Only a win will see any of these teams go through, and only if Nykøbing lose at Poravka

In the reverse fixture last month, Bera Bera comfortably won at home, 32:21
Author: Sergey Nikolaev / ew