Danish teams triumph as Women's EHF Cup qualification continues
Denmark is the nation with the biggest number of participants in the Qualification Round 3 of the Women's EHF Cup – four. All of them played first leg games at home, and all won – however, their chances to reach the group stage look quite different.
Following a 31:16 victory against Jagodina, Viborg have almost secured their progression to the next stage. Ann Grete Norgaard Osterballe was the driving force for the winners, as she found the net 11 times.
Herning-Ikast can also feel rather comfortable after a six-goal win against Romania's Ramnitu Valcea (22:16).
Yet two other Danish teams feel less secure, as NHF won the Scandinavian derby against Hoor by just three goals (27:24), while Esbjerg beat Paris by even a smaller margin, 29:28.
Esbjerg's coach Jesper Jensen was not happy with such a narrow victory. "We made mistakes in attack, got penalties and shot wide. Therefore we won by just one goal," he said.
Kuban suffer home defeat
All three Russian teams also played the first leg games at home, but with mixed success. Zvezda Zvenigorod could hardly stop Magura's Jasna Boljevic, who finished the game with 11 goals.
Yet that did not prevent Zvezda from claiming a 29:24 victory, which is not bad for the Russian side prior to the second leg in Romania.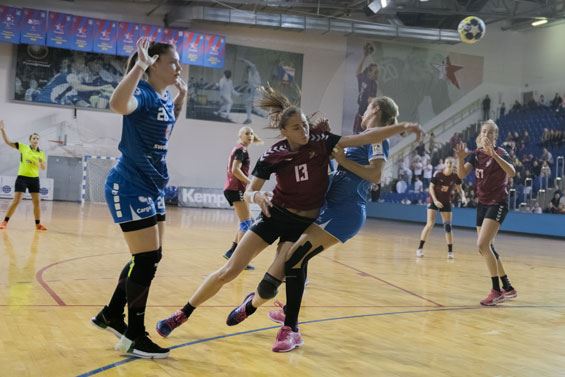 In Togliatti, Lada celebrated a four-goal win against Siofok (30:26). The Hungarian team did better in the first half, winning it 16:15, yet they looked tired towards the end of the game, and the younger Lada capitalised on that and turned the tide.
"I can only thank my players for their character and second-half comeback, but four goals is a small advantage, so it's hard to predict what will happen in Hungary," Lada's coach Alexander Khomutov said.
On Sunday, Kuban did not follow the example of fellow Russian teams and lost against Mecalia. The Spanish team had an exhausting voyage to Russia, as their plane could not land in Krasnodar for a long time because of the fog. But that did not stop the visitors from claiming a narrow away win, which makes them favourites ahead of the second leg.
Successful start for Craiova
Reigning EHF Cup champions Craiova, who entered the competition in this round, also made a big step towards the group phase. Playing away against Borussia Dortmund, the Romanian side won 19:17, so now they just hope to finish the job at home.
Unlike Dortmund, another German side Metzingen are now close to progressing to the group phase. At Banik Most, the 'Pink Ladies' were dominant and clearly won by a nine-goal margin (28:19).
The only draw of the weekend took place in Poland, where Lublin and Besançon drew 22:22. That result seems to be more favourable for the French team, who will now try to have the upper hand at home.
Author: Sergey Nikolaev/jh