Petkovic: "In one game, everything is possible"
He steered Frisch Auf Göppingen to their first two trophies in the EHF Cup in 2011 and 2012, and added a third with his current club Füchse Berlin in 2018: Velimir Petkovic is out to make history at the AKQUINET EHF Cup Finals in Kiel.

In their fifth appearance at the finals, defending champions Füchse can lift the trophy for the third time.

The Bosnian-born Petkovic (62) expects tough matches in Kiel. He speaks full of respect about semi-final opponents FC Porto Sofarma and hopes for an all-German final against the hosts.

europeancup.eurohandball.com: You can become the first coach to win the EHF Cup four times. Is that a special motivation for you?

Velimir Petkovic: I would like to write this story. Including the IHF Cup success as coach of Borac Banja Luka in 1991, it would even be my fifth trophy. We want to defend our title in Kiel, but that will not be that easy. But in one game, everything is possible against any opponent.

europeancup.eurohandball.com: In addition, Berlin can only compete in the upcoming EHF Cup season if you win the title this week.

Velimir Petkovic: That's right, only defending the title guarantees us the ticket for another international season. In the Bundesliga we have lost many points and made life difficult for ourselves. So we have to grab this opportunity in Kiel.

europeancup.eurohandball.com: What is your resume of this EHF Cup season so far?

Velimir Petkovic: We definitely play better on the international stage than in Bundesliga. And you have to keep in mind that we always had to face the heaviest opponents in any stage. In qualification, we met the then Danish league leaders Aalborg and we had so many injured players that we had to play with five junior players in Denmark. Despite the close defeat, I was very satisfied. In the second leg, we had some more regulars in the squad - and when we proceeded, that was the signal for us that we could get very far again in this EHF Cup season. In the group stage, we had to duel again with our last year's final opponent Saint-Raphaël and in addition we had to face a strong Spanish opponent, Logrono. But we also solved these tasks confidently. In the quarter-final I really wanted to avoid a duel with Hannover, because they defeated us in the league shortly before. But of course we were drawn against TSV. The first leg in Hannover was definitely our best game in the last few months, so everything was clear before the second leg.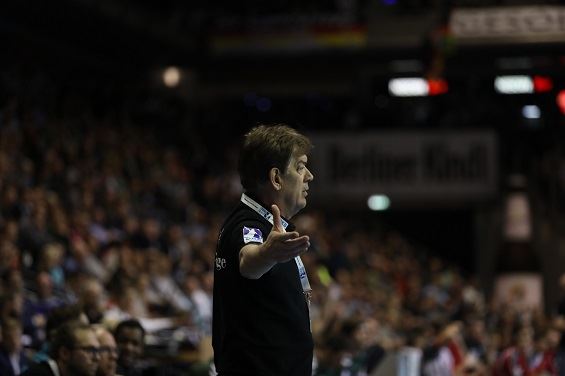 europeancup.eurohandball.com: Your semi-final opponents Porto eliminated Magdeburg and Saint-Raphaël in the previous rounds. How difficult is the task for Füchse?

Velimir Petkovic: Porto are very unpleasant opponents. I watched their game against Magdeburg - and on first hand I was glad that they eliminated SCM, because they would have been another strong opponent on our way to defending the title. I was also thrilled by how Porto defeated Saint-Raphaël, they showed two very strong performances. Porto are physically very strong, especially their Cubans. But we really want to reach the final. In the semi-final, we must at least put in a performance like last year in the two games in Magdeburg against Göppingen and Saint-Raphaël.

europeancup.eurohandball.com: Many expect a final between the defending champions and the hosts.

Velimir Petkovic: I hope so. We really want to play against Kiel again. In the German cup semi-final and in the league we have lost twice in the past weeks, now we want to take revenge on them. We know that in Kiel this fantastic backdrop of more than 10,000 fans will be anything but easy. But we are looking forward to this atmosphere, which will be something very special for all four teams.
Author: Björn Pazen / ew