Strong second half gives Tatabanya first win
After losing in the dying seconds of the game against Nexe, Tatabanya were in desperate need of points before visiting Rabotnik. If the first half was more or less a level affair, the second one was much more one-sided with the visitors only condeing ten goals while scoring 17 to secure a first win in the competition.
This was Tabanya's first win while Rabotnik remain without points at the bottom of Group B
Best scorer of the game was Rabotnik's Vladislav Ostroushko with 9, while Tatabanya's Rosta scored 6 times
GROUP B
HC Eurofarm Rabotnik (MKD) - Grundfos Tatabanya KC (HUN) 21:31 (11:14)
Tabanya took the lead right from the beginning of the game, thanks to a strong defence which allowed them to take the first real advantage in the game, 4:1, after five minutes.
The locals did their best not to let their opponent get away on the score board, often closing to two but never managing to draw level, despite Vladislav Ostrouchko best efforts. Scoring nine overall, the Ukrainian player was pivotal in Rabotnik's relatively good first half, which saw them being only down by three at the break (11:14).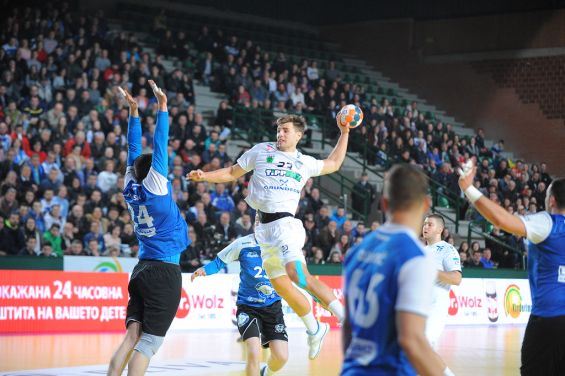 But all their efforts were ruined within five minutes after they came back from the dressing room. Three goals against, two turnovers and a red card later, Tatabanya were leading 18:11 and the tide seemed to have turned.
With Milos Vujovic and Demis Grigoras as main attacking assets, Tatabanya kept their advantage, making sure they could not be matched. One last-second goal by Mikloas Rosta, his sixth of the game, ensured Tabanya of their first win in the EHF Cup Group Phase with the biggest margin of the game.
Vladan Matic, coach Grundfos Tatabanya, was unsurprisingly happy with the win, "We played a great game, we are motivated . We lose Vranjes at the start of the match, but our goalkeeper and defence ware fantastic. Macedonian squad is still young, we have more experince, we played stronger league and that was the key. Thanks for HC Eurofarm, they make perfect organisation."
Author: Kevin Domas/at