Westerholm: "Speed will be our key"
"Having reached the (AKQUINET EHF Cup) Finals is very big for our club, and having made it this far means a lot to us all."

Patrick Westerholm, head coach of TTH Holstebro is aware of the importance of qualifying for the finals tournament in the Sparkassen-Arena in Kiel on Friday and Saturday.

It is the second time the Danish club is in the Finals. They also played at the first edition of the current format, in Nantes in 2013, when they finishes third.

"I am extremely proud that we have been able to make it this far. Eliminating Tatabánya in the quarter-final was really a masterpiece and a milestone for us," Westerholm says. "They were not just some ordinary opponent on the road, but a team of a very high quality, so eliminating them over two matches really says a lot about our own level, and it definitely justifies that we are going to Kiel."

Westerolm, a former Finish international, has been in charge of Holstebro since 2015.

An investment in the future

Only two players from the current squad were also part of the team that reached the finals six years ago: left wing and EHF Cup top scorer Magnus Bramming and right back Peter Balling. While Bramming will be trying to further raise his goal tally in Kiel, Balling has been out for some time due to injury.

"He has started training a bit, but he is still far from his match form, so I actually do not expect him to be able to play in Kiel," says Westerholm, who also sees the competition as an investment in the future.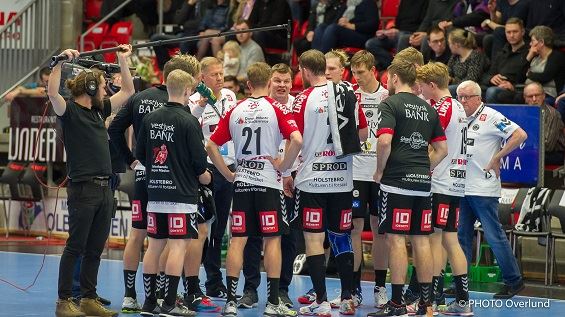 "We have many young players in our team, and for them, playing these matches will be a great opportunity to develop and gain experience, so in that respect, we also welcome our finals berth very much," says Westerholm, adding that his focus is only on the semi-final against hosts TWH Kiel.

The match will open the AKQUINET EHF Cup Finals 2019 on Friday at 18:00 hrs and will be streamed live on ehfTV.com.

Playing without pressure

"Playing the semi-final against THW Kiel on their home court will obviously be a huge experience to us, but there is no doubt that they are huge favourites against us," the Holstebro coach says. "To them, and to their many thousand fans, it would be a disaster if they were sent out by a Danish team already in the semi-final, but we will play for our chance, of course."

For Westerholm, his team will have to stick to its strongest assets.

"We will have to play with a lot of speed, as that is our strongest weapon, and that was also what brought us success against Tatabánya in the quarter-final," he says. "However, I expect Kiel to be better prepared for our way of playing. They played against GOG in the group phase, and GOG's style of playing resembles ours quite a lot. We will obviously do all we can, and we are looking forward to being part of the event."
Author: Peter Bruun / ew