Porto searching for European glory
FC Porto Sofarma's journey in the Men's EHF Cup 2018/19 season has another obstacle. On Friday, the 'Dragons' will play defending champions Füchse Berlin in the second semi-final at the AKQUINET EHF Cup Finals (live on ehfTV.com at 21:45 hrs).

Porto's quarter-final victory against Saint Raphaël Var Handball was an historic one, as the blue-and-white team reached the finals of this competition as the first Portuguese team.

Led by coach Magnus Andersson, Porto have been impeccable - both in Portuguese competitions and in the EHF Cup.

Mentality and desire to win

According to Fábio Magalhães, the secret is in "daily work with great seriousness and a lot of ambition."

"We have a very young team and it has been incredible to see the mentality of all and the desire to win in all games throughout the season," the 31-year-old Porto left back says.

Also, the frequent use of 7-against-six tactics has been important for Porto.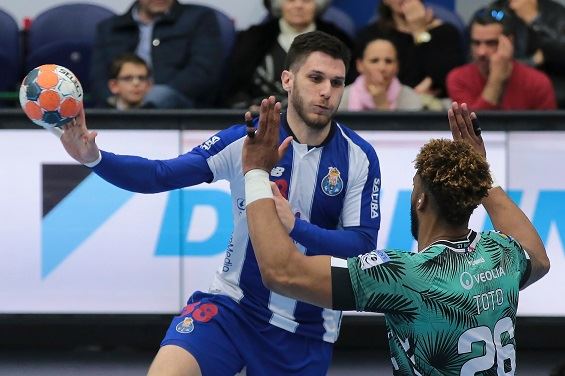 "We have great players and we have already shown that we are also strong in 6-against-6. But I cannot deny that it has been important. It's one more weapon, it's one more thing that opponents have to worry about and prepare for when they play against us," Magalhães says.

"I can say that I feel good and confident playing the 7-against-6, but the merit has to be shared by the whole team. Our finishing effectiveness has been incredible and we have conceded a few goals without the goalkeeper on goal, which is a great risk when we play this way."

"We know it's difficult… but why not?"

After they had left behind SC Magdeburg in the final qualifying round, Porto added up six wins in their six group matches against fellow finals participants TTH Holstebro (32:29 at home, 33:31 away), Liberbank Cuenca (37:26, 29:26) and HC Dobrogea Sud Constanta Constanta (30:27, 35:29), before eliminating last year's finalists Saint-Raphaël in the quarter-final.

"It's been an incredible race for us in this competition," Magalhães says. "We've eliminated teams that were candidates to win this cup and we came here where few believed we could reach it. No doubt that the dream now is to win the EHF Cup and make history. We know it's difficult... but why not?"

It has been an excellent season for Portuguese handball, both on club and national-team level.

"The appearance of players and coaches with experience in other championships has helped in a way that the Portuguese teams become more competitive out there, but I think we have a lot of quality in Portuguese players and coaches," Magalhães says. "On the other hand, the departure of the Portuguese players to other, more competitive championships also helps to bring quality and competitiveness to the national team. It is important to reconcile the two aspects so that Portuguese handball continues to grow."
Author: Tiago Nogueira / ew