Danish teams win Nordic derbies in EHF Cup
Six of the eight teams in action in the Women's EHF Cup Group Phase on Saturday represented the Nordic countries.
Koebenhavn and Viborg redeemed themselves after a poor start in the group stage by beating their Norwegian rivals Vipers and Byasen, respectively.
Banik and Larvik played the first draw of the group phase

Randers and Vipers are still on zero points after two matches

Byasen's Mia Högdahl scored six times against her future team, Viborg
GROUP A
SCM Craiova (ROM) vs Randers HK (DEN) 23:17 (16:6)
Having lost their opening matches in the group, both Craiova and Randers were looking for redemption.
The home team looked overall better and claimed their first two points, while last-placed Randers still have no points.
In the first half, the gap between the rivals was huge. Led by left back Cristina Florianu, SCM were systematically building up their advantage, which reached double digits at the break (16:6).
Randers looked very poor in the first 30 minutes, scoring just six times, yet the Danish team should be credited for not giving up.
While Craiova visibly relaxed their approach, the visitors had an excellent 7:1 run in the second half, changing the score from 20:9 to 21:16.
Although it made SCM players somewhat nervous in the final minutes, their victory was never in danger.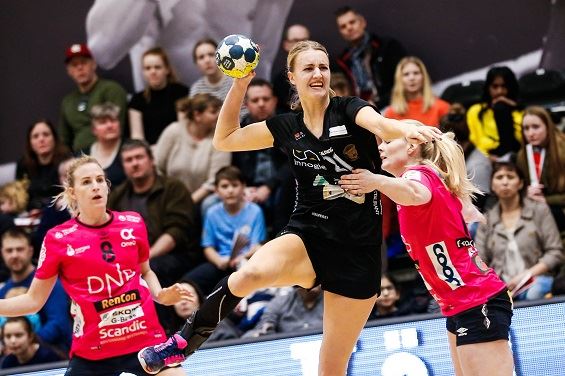 GROUP B
Koebenhavn Haandbold (DEN) vs Vipers Kristiansand (NOR) 30:25 (16:13)
Both teams in this Nordic duel had opened the group phase with defeats, so both were eager to claim their first points in Frederiksberg.
But Koebenhavn were clearly superior on the court and got a deserved win.
Now the Danish side are level on two points with Issy in Group B, while Vipers, who had participated in the EHF Champions League earlier this season, sit bottom of the group with no points.
As many as 11 players scored for the Norwegian team in the game, but none of them netted more than five times.
In contrast, Koebenhavn had leading scorers like Mia Rej Bidstrup (eight) and Jenny Alm (seven).
Leading by three after the first half, the hosts had nearly done the job in minute 50 when they led 27:20.
Vipers had a strong finish, reducing the gap to 28:24 at some point, yet it was too late.
GROUP C
Byasen Handball Elite (NOR) vs Viborg HK (DEN) 21:28 (10:12)
The second Danish-Norwegian duel of the day was played in Trondheim, but just like in Frederiksberg, the team from Denmark were stronger and clinched two points.
The defeat in the opening group game against Kastamonu was quite frustrating for Viborg, but it had a sobering effect.
This time, the Danish side looked more powerful, and following Saturday's victory they are level with Byasen on two points.
The match was not a walk in the park for Viborg – especially in the first half when Byasen's players capitalized on the visitors' mistakes and scored from fast breaks.
Mia Högdahl, who will move to Viborg in the summer, did not spare her future teammates and finished the game as top scorer with six goals.
However, Viborg led 12:10 at the break, and they further improved in the second half.
Their goalkeeper Rikke Poulsen contributed a lot with her saves, while Byasen's defence started to look shakier – and the Danish team made use of it.
After a good 4:0 run, Viborg led 23:17 in the 53th minute. Byasen's resistance was broken, and the visitors went on to win by seven goals.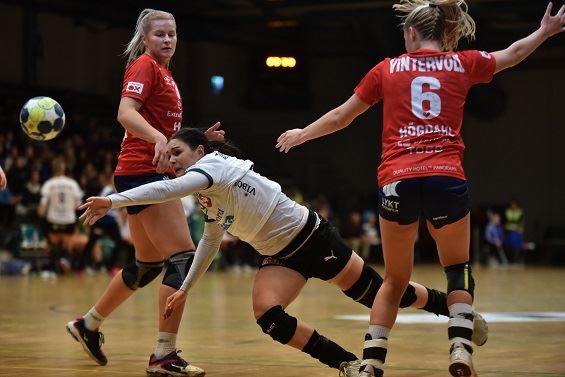 GROUP D
DHK Banik Most (CZE) vs Larvik (NOR) 21:21 (11:12)
A poor performance in the closing stage of matches has become a problem for Banik.
Both in the opening group game against Höör and in Wednesday's domestic league match with Slavia Prague, the team of Peter David were in the lead a few minutes before the end, but both times squandered their advantage and ended up losing.
This time, Banik split points with Larvik despite leading by two goals a few minutes from the final buzzer.
In the absence of injured Marketa Jerabkova, who had scored 14 goals against Höörs in Round 1, Banik had just a 36-percent attack efficiency.
But again one of their players became top scorer of the game as Simona Szarkova netted 10 times from 21 attempts.
Larvik led for most of the first half, at times even by four goals, and were up 12:11 at half-time.
However, Szarkova's impact helped Banik to make a comeback after the break and seize the lead. Yet the Norwegian side pulled back late in the game, and probably the draw is a fair result.
Author: Sergey Nikolaev / ew