Byasen and Lada eliminated from EHF Cup
The Saturday programme of the Women's EHF Cup featured two games between Russian and Norwegian teams. Rostov, who had secured the top place in the Group C before the match, denied Byasen their last chances to progress from the group. In Group D, last-place Glassverket avenged their country-fellows by beating Lada and ending their hopes to go through.
Rostov-Don claimed their fourth straight victory
Byasen lost their third game in a row and lost a chance to go through
Glassverket won their first group match in the current European season
TuS Metzingen and NFH-Nykobing Falster Handboldklub secured spots in the next round even before their Sunday clash
GROUP C
Rostov-Don (RUS) vs Byasen Trondheim (NOR) 35:21 (20:8)
Byasen needed a victory to keep a chance to progress from the group, but the miracle did not happen as Rostov were too strong for the Norwegian team, who suffered their third defeat in a row.
The Russian side took revenge for the surprising setback in Trondheim which remained their only defeat in the group. After that loss in Round 2, they went on to win four straight games and had no problems sealing the first place in the quartet.
Their superiority over Byasen was never in question as the hosts were in front 8:5 after 15 minutes and 20:8 at half-time. The scenario did not change after the break as the visitors visibly struggled against their powerful rivals.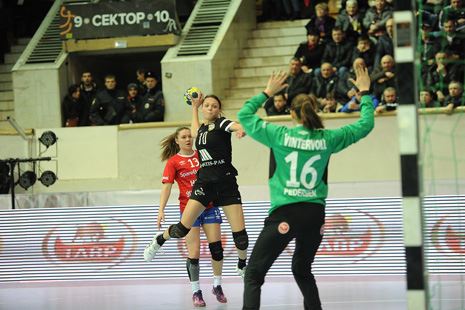 Following this loss, the Trondheim-based team are eliminated from the EHF Cup. On Sunday, SG BBM Bietigheim and ERD HC will contest the second place in the group – a victory will suffice for any team to go through, while a draw favours ERD who beat their German rivals in their previous meeting.
GROUP D
Glassverket (NOR) vs Handball Club Lada (RUS) 26:25 (15:12)
Nothing could lift Glassverket from the group bottom; yet the Norwegian team finally showed quality and earned their first victory in the Group Phase of both EHF Champions League and EHF Cup in the current season.
The hosts had an advantage throughout the game and were up 21:14 in the middle of the second half, but Lada fought hard in the last quarter of the match and were close to drawing level – but never did it.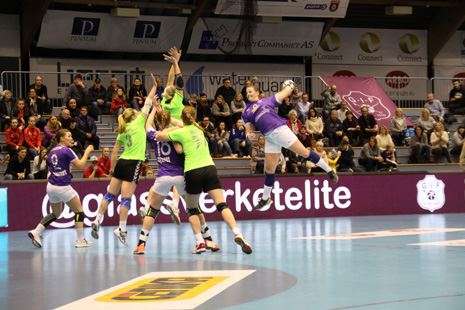 The defeat is very bitter for the Russian team who are now eliminated from the EHF Cup.
TuS Metzingen and NFH-Nykobing Falster Handboldklub have both secured a quarter-final berth even before their Sunday clash which was supposed to play a crucial role.
Although the loser of this game will be level on points with Lada, both Metrzingen and NFH have an advantage on the Russian side on the head-to-head encounters, so they are certain to go through.
Author: Sergey Nikolaev/tm