No European title for Holstebro this season
Last season, TTH Holstebro won the latest edition of the Cup Winners' Cup after claiming the Women's EHF Cup in 2013 and 2015.
This season, there will be European triumph for the Danish club though. VfL Oldenburg made sure of that. Having won the first leg in Holstebro 27:25, the Bundesliga team won as big as 31:21 at home on Sunday.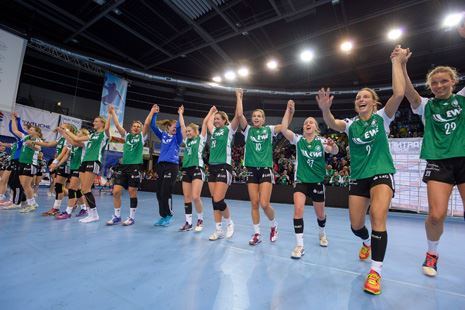 Holstebro were able to reduce a 15:9 deficit to 15:14 around the break, but for the rest of the match, Oldenburg were dominating, with Angie Geschke as their great goal scorer. The 31-year-old left back netted a total of 10 goals.

Kuban became the third Russian team in the group phase. After Handball Club Lada qualified Saturday and Rostov-Don finished last in Group C of the Women's EHF Champions League, Kuban removed the last doubt surrounding their own main round berth on Sunday.
On home ground in Krasnodar, Kuban started with a six-goal lead after their 29:23 win away against Hypo Niederösterreich last weekend. This time, the Austrian team were able to follow Kuban to tie it at 14 at half-time, even after being two goals up at one point. However, in the second half, the home team established a six-goal lead again and won 32:26.

After ÉRD HC qualified for the group phase on Saturday, Alba Fehérvár KC made certain that Hungary will be represented by two teams among the last 16 teams. Fehérvár were close the next round already, after winning 28:23 away against IUVENTA Michalovce last Sunday, and on Sunday afternoon, they removed the last remaining doubt by winning 27:19. Fehérvár were leading 16:11 at half and the Slovakian visitors never doubted the final outcome.

To Byasen Trondheim, last weekend's 25:24 in Romania against H. C. Dunarea Braila turned out to be no problem when the two teams met again in Norway. After a 17:10 lead at half-time, Byasen won 34:23 and will be one of two Norwegian teams in the group phase. Glassverket, who finished fourth in Group A of the Women's EHF Champions League group matches, will be the other.

There will also be two French teams in the pot for the group phase draw that will take place on Thursday. On Saturday, European debutants, Brest Bretagne Handball, qualified and on Sunday evening, Nantes Loire Atlantique HB followed in their footsteps. Nantes actually made it clear in their first away match against SERCODAK Dalfsen, in which the French side won 31:21.
During the return match in the Salle Sportive de la Trocadiere, Nantes could afford to take things a bit easier and the Dutch champions played a slightly bigger part this time. In front of 3500 spectators, they were not able to threaten the French win though; although the Nantes win was somewhat smaller this time, as the return match ended 31:28 for the hosts, who were only leading narrowly (16:15) at half-time.
Author: Peter Bruun/tm