Inspired Craiova win Women's EHF Cup in a thriller
Neither Craiova nor Vipers had ever won a European cup before, so it was a historic final for both sides. Vipers' four-goal victory in Norway left the contest open, and the second leg match became a real thriller.

At the end, Lady Luck smiled on the Romanian side, whose goalkeeper Yulia Dumanska made a double save in the last minute to bring the trophy to Craiova.
Craiova won their first ever European trophy
Ana Maria Ticu was the home side's best scorer with seven goals
Linn Jorum Sulland netted seven times for Vipers
WOMEN'S EHF CUP FINAL, SECOND LEG
SCM Craiova (ROU) vs Vipers Kristiansand (NOR) 30:25 (19:12)
First leg result: 22:26, aggregate: 52:51
All the match tickets sold out very quickly, and over 1,000 fans watched the game on a huge screen in front of Sala Polivalenta Craiova. Supported by the enthusiasm of their home crowd, SCM enjoyed a perfect start. Four minutes into the match, the Romanian team were up 3:0, and although Vipers cut the deficit to 5:4, soon Craiova dominated again.

During the first 20 minutes, they were like a hurricane on the court, producing excellent combinations and scoring from almost every attack. Zeljka Nikolic, Ana Maria Ticu and Bobana Klikovac looked particularly inspired and scored one goal after another, and the defence led by goalkeeper Yuliya Dumanska also did a great job.
Between the 16th and 21st minutes, SCM moved the score from 11:8 to 16:8, but they failed to keep that rhythm later in the first half. The home side could not find the net for the next almost seven minutes and let Vipers reduce the deficit to 16:10. Even so, Craiova led by seven goals (19:12) at the break.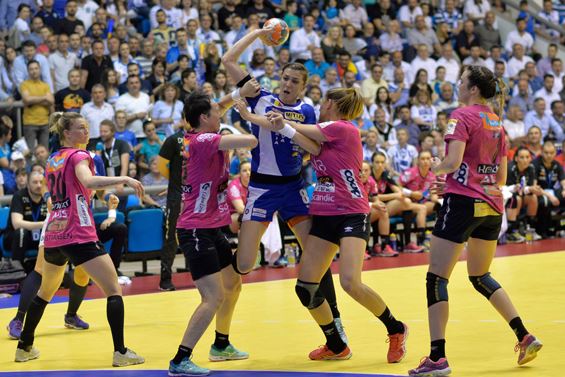 For much of the second half, the hosts more or less maintained that gap, yet Vipers did not give up. They started to play more aggressively in defence and cut the deficit to 28:23 by the 50th minute, which guaranteed a nerve-wracking end to the game.
When Vipers' Linn Jorum Sulland made it 30:25 with more than four minutes to go, hardly anyone thought that it would be the final score. But both teams looked too nervous in those last minutes, when every mistake could cost.
Just one goal separated Vipers from triumph, and they had their chances, but the heroic Dumanska saved two consecutive shots by Emilie Hegh Arntzen 20 seconds from time, which allowed Craiova to lift the trophy.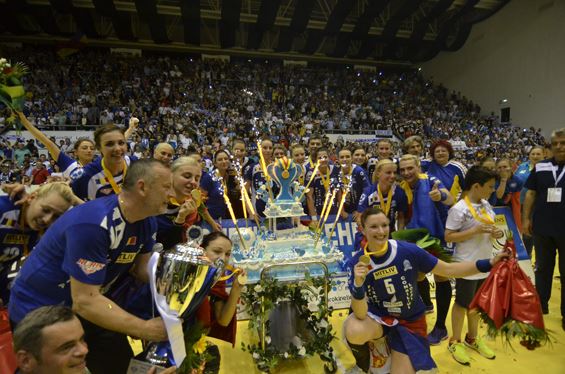 Author: Sergey Nikolaev/jh