Siófok join Danish party, Herning-Ikast survive comeback in Croatia
After Viborg secured a Women's EHF Cup Semi-final spot on Saturday, their example was followed by two more Danish sides, Esbjerg and Herning-Ikast, as well as Hungary's Siófok, as all these teams defended their advantage from the first leg.
Just like a week ago, Esbjerg scored 37 goals against Kuban
Siofok scored 23 goals in the first half against Storhamar, but only nine after the break
The competition's top scorer Helene Fauske netted just three times for Herning-Ikast as they struggled in the second leg
Viborg will face Siofok, while Esbjerg and Herning-Ikast will meet in the Danish derby in the semi-final
QUARTER-FINAL, SECOND LEG
Team Esbjerg (DEN) vs Kuban (RUS) 37:31 (21:20)
First leg result: 37:24. Aggregate: 74:55
After a 13-goal home defeat in the first leg, only a miracle could help Kuban progress to the semi-final. It never looked likely as the Russian team were eliminated from the competition.
Similar to the match in Krasnodar, Esbjerg showed their attacking power and ended up with the same number of scored goals, 37. This time the Danish team won by a smaller margin, but their semi-final ticket was never in question.
Overall, the scenario of the match somewhat reminded that of the first leg – following the tight first half, Esbjerg pulled clear after the break and clinched a confident victory.
Kuban's 20-year-old right back Mariia Dudina enjoyed her best game of the campaign, scoring almost a third of her team's goals with nine, yet her impact was not enough. Esbjerg's goals were spread among 11 players, with Kristine Breistol and Kristina Liscevic scoring seven times each.
Siofok KC Hungary (HUN) vs Storhamar Handball Elite (NOR) 32:31 (23:15)
First leg result: 31:24. Aggregate: 63:55
The seven-goal away victory made Siofok strong favourites and the Hungarian side did just enough to confirm it. On home court, the team coached by Norwegian coach Tor Odvar Moen won narrowly, but it was more than enough to go through.
Early in the game, Storhamar were up 3:2, which only kicked the hosts into action. Led by Estelle Nze Minko in attack, they woke up and started to demonstrate their fire power, ending up with 23 goals in the first half alone.
Having spent so much energy, Siofok slowed down after the break, allowing their rivals to start the chase. Betina Riegelhuth, Ellen Folkvord and Kristin Venn capitalised on the hosts' complacency and almost drew level, yet Siofok ultimately won by a small margin.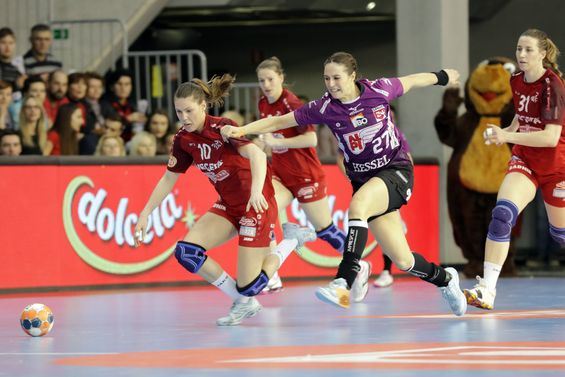 HC Podravka Vegeta (CRO) vs Herning-Ikast Handbold (DEN) 24:18 (12:6)
First leg result: 26:34. Aggregate: 50:52
Unlike three other losers of the first leg, Podravka played the return game at home and hoped to make use of the support. They showed strong character and looked set to complete a spectacular comeback, but ultimately Herning-Ikast weathered the storm to clinch a semi-final berth.
It was not the best day for the competition's top scorer Helene Fauske, whose impact was limited to three goals. In the first half, the visitors looked uncharacteristically poor in attack, scoring just six goals. Podravka's great defence and effective attack helped them pull clear at 17:9 by the 37th minute and the scores were level on aggregate.
But when Jessica Ryde took her place in Herning-Ikast's goal, the visitors began to improve. Thanks to Ryde's string of saves, her team had a 6:1 run in the next ten minutes and regained confidence. Although Podravka refused to give up, the final score of 24:18 was enough for Herning-Ikast to take a two-goal aggregate win and become the third Danish semi-finalists of this season's Women's EHF Cup.
Author: Sergey Nikolaev / cor