Rostov secure Women's EHF Cup Group C top spot
The weekend programme of the Women's EHF Cup is over after two games on Sunday and with one match day to go, five quarter-finalists are already known. Brest, who had already qualified for the last eight after the results yesterday (Saturday 4 February) beat HC Leipzig 23:20, while Rostov-Don secured top-spot in group C with a 30:19 win over ERD HC in Hungary.
Brest remain the only unbeaten team in the Group Phase
Leipzig are the only team without points
Rostov's victory against Erd secured them the leading position in Group C
ERD, Bietigheim and Byasen are equal on points in the same quartet, so the runner-up will be determined next week
GROUP B

Brest Bretagne Handball (FRA) vs HC Leipzig (GER) 23:20 (10:10)

Kuban's win over Alba Fehervar on Saturday in group B was good news for Brest who secured a spot in the quarter-final ahead of their match today. "Before the game," said Brest Head Coach Laurent Bezeau after the Leipzig win, "I told my players; 'OK, we're qualified but let's win this game in order to have the opportunity to finish in first place and, more importantly for the stars of our handball club – the 4,000 fans in the arena."

Win they did, and following the victory against Leipzig, the French side remain the only undefeated team in the whole tournament.

However, there was a feel of complacency in their game. The score stayed 0:0 for six-and-a-half minutes before Brest's Melinda Geiger scored the first goal in the match.

With their goalkeeper and captain Katya Kramarczyk back after an illness, Leipzig were eager to claim their first points in the group and despite being behind for most of the first half, they managed to draw level 10:10 at the break. Yet Brest have more class, and although they did not show their best game, the hosts were dominant in the second half and grabbed a deserved two points.

"I'm very proud of my team," said Leipzig Head Coach Norman Rentsch after the match. "Three weeks ago, we lost by 19 goals against Brest and the girls have done a great job since this defeat.

"We played two good games against Krasnodar and in one against Metzingen, one of the favourites in the German Bundesliga. Tonight, there were a lot of people in the arena and I think we did our job".

GROUP C

ERD HC (HUN) vs Rostov-Don (RUS) 19:30 (10:13)

Following their fourth win in five matches, Rostov secured not only a berth in the next round but also first place in Group C.

"I've been working with Rostov for a little bit more than three weeks," said their coach Frédéric Bougeant after the match. "I heard so many bad things about my players ([before I came] because they began with some difficulties this season. But I can tell you today that Rostov is not dead, Rostov is very alive and we are ready to fight.

"The players respected the plan today and I can see so many changes in this team in such a short time. If we keep this spirit up, we can have a strong end of season."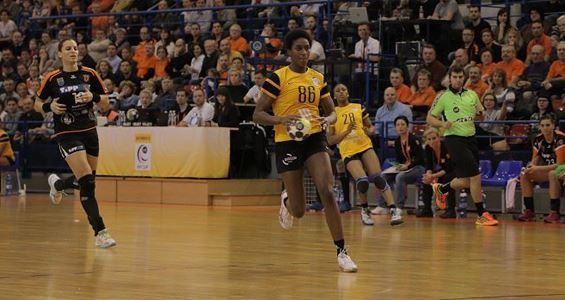 ERD stay on four points, just like two other teams in the quartet, SG BBM Bietigheim and Byasen Trondheim. The trio will determine the second quarter-finalist in the last round of matches next week.

"It's really hard to say this but this match might have been a gift for us," said ERD Coach Edina Szabó. "With the same mentality we had today, we can produce better results next time.

"There is a common phrase that 'what doesn't kill you, makes you stronger,' and of course it's true as we still have a chance to qualify.

"I would like to send the message that ÉRD is also alive."

In their match this afternoon Rostov seized the initiative early on and led 3:0 after six minutes. Although ERD almost came back at 5:4, and later had another good run between the 20th and 25th minutes when they changed the score 9:5 to 9:9, the visitors went on to win the first half 13:10.

After the break, Rostov's superiority became much more evident, so they did not have problems and a clear victory was sealed.

"We are happy for this victory as it was a very important game for us," said Rostov-Don right back Anna Vyakhireva. "We want to be very confident in the future, and with each game we want to get better and better; today we were able to produce a 100% performance."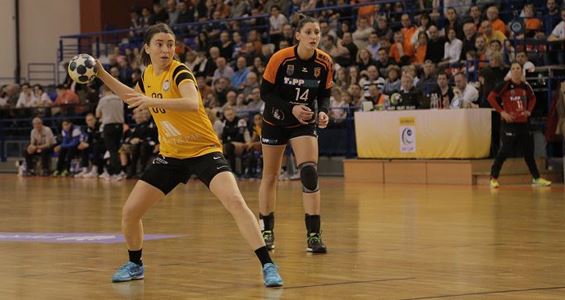 For ERD goalkeeper Kinga Janurik a lot of positives can be taken from the game. "We prepared very hard for this game and hoped we could earn a point," she said. "In the first half, it was a really tight game, but unfortunately in the second half we were overrun by Rostov and their speed.

"Our defence, which is normally our strength, was broken today," she continued. "We have a really hard game next week, and we are that team which will turn up even stronger after this.

"I'm also hoping that in the near future we can meet with Rostov again and can perform better."
Photos: www.twitter.com/rostovhandballe
Author: Sergey Nikolaev / amc