Rostov claim EHF Cup with another win
The second leg of the EHF Cup Final followed a scenario similar to the first leg. Just like a week ago in Ludwigsburg, Rostov somewhat struggled for a large part of the match, yet ultimately claimed a 25:21 victory and crowned their European season with a trophy.
Rostov-Don win EHF Cup for first time in history
Earlier Rostov won IHF Cup Winners' Cup in 1990
Rostov boast 10-game winning streak this competition
Bietigheim's Susann Müller is EHF Cup top scorer with 77 goals
FINAL, SECOND LEG:
Rostov-Don (RUS) vs SG BBM Bietigheim (GER) 25:21 (12:12)
Rostov win 53:46 on aggregate
Following Rostov's hard-fought victory in Ludwigsburg, it looked like the Russian team would make a confident last step at home, supported by their home crowd. However, Bietigheim were determined to fight until the end – and they had a chance to create a small miracle.
The German side's morale and commitment were obvious already in the opening minutes when they took a 2:0 lead. Rostov drew level pretty soon, yet they were hardly able to dominate on the court. Bietigheim looked stubborn, played well in defence with goalkeeper Tess Wester showing some excellent saves, so the hosts could not create more than a two-goal gap.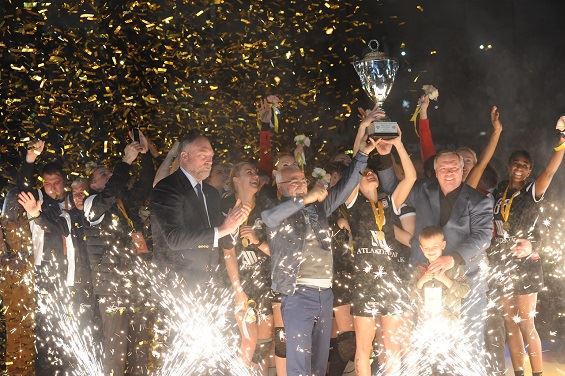 Leading 9:7 after 20 minutes, Rostov scored just three times in the remaining part of the first half. Two minutes before the break, they were still up 12:10, yet Mille Hundahl and Mia Biltoft drew level, so nothing was clear at half-time with a 12:12 score.
The hosts weathered the storm
Early in the second half, Rostov found themselves in a dangerous position as the inspired Bietigheim had an upper hand and constantly led by two goals: 14:12, 15:13, 17:15. Yet the hosts held their nerve in a critical situation.
After coming back to 17:17, they went on to dominate the game. It was not the best day for Rostov's top scorer Alexandrina Cabral Barbosa, who converted just three of her nine shots, but her teammates were more prolific.
Iuliia Managarova found the net six times, while Siraba Dembele scored five goals, and their game helped the hosts to weather the storm and ultimately clinch a victory.
Bietigheim finished the game without Maura Visser, who suffered an injury, and Angela Malestein, who got a red card for throwing the ball to Galina Mekhdieva's face as the referees decided that it was a deliberate action.
An impressive achievement
Susann Müller added five goals to her account and became the EHF Cup top scorer with 77 goals. Her impact did not help the newly-crowned German champions to win an international trophy, but being the runners-up in their debut international season is already an impressive achievement.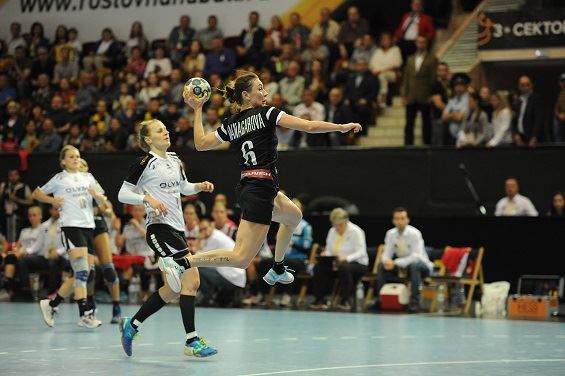 And for Rostov, winning the EHF Cup is a compensation for their unlucky performance in the EHF Champions League, where the Russian team were relegated after the group phase.
Now they have a chance to add yet another trophy to their collection as Rostov will face Lada Togliatti in the final of the Russian league.
And for goalkeeper Katrine Lunde, who will return to her native Norway, the EHF Cup triumph means the goalkeeper won't have to leave Rostov at the end of the season without winning some European silverware in her two-year stint with the Russian club.
Post-match statements:
Frédéric Bougeant, Rostov-Don head coach: "Some people thought it was going to be an easy game. But players and coaching staff felt some pressure (...) The beginning of the season was hard, but my players did their best, had progress. This is the victory of my team and I'm proud of my team."
Iuliia Managarova, Rostov-Don right wing: "Now I feel empty. I left all my emotions on the court. We did a nice job. (...) The beginning of the game was a little bit nervous for both teams, but then we managed to be concentrated until the end of the game."
Author: Sergey Nikolaev / ew