Larvik and Brest hope for strong comebacks
The second leg matches of the Women's EHF Cup are set to be played during the weekend, and while three matches will take place on Saturday, one game is scheduled for Sunday.
Following a win in Craiova, Lada have a good chance to secure a semi-final ticket on home court. Kastamonu hope to take revenge on Zalau for a one-goal defeat in Romania, while Larvik and especially Brest need to pull off strong home comebacks against Viborg and Vipers respectively.
Only Lada won away from home in the first leg
Vipers are on a four-game winning run
Lada's Daria Dmitrieva still tops the competition scoring chart with 54 goals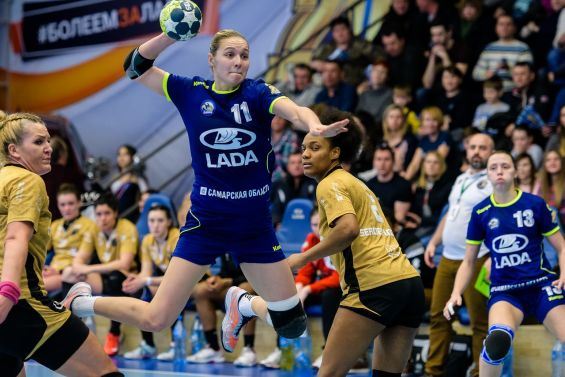 Handball Club Lada (RUS) vs SCM Craiova (ROM)
Saturday 10 March, 16:00 local time, live on ehfTV.com
Last season, Lada did not reach the Women's EHF Cup play-offs, but now the Russian side are determined to go as far as possible. Seen by many as favourites of the competition, they are close to reaching the semi-final following a two-goal away victory (25:23) against Craiova.
As suggested by the half-time score in Romania (15:9), Lada's advantage could have been much bigger. Yet overall the Russian team's back court players Daria Dmitrieva and Polina Vedekhina dominated on the court, and SCM could not hold them back.
Prior to that, Craiova had won all home games in the current European season. However, they were not so confident on the road where they lost twice in the group; in Brest and notably in Krasnodar.
Now SCM are off for another trip to Russia, and their chances to succeed in Tolyatti look marginal. Yet the Romanian team's coach Bogdan Burcea refuses to give up.
"It will be very hard, but it has not been easy until now. It's possible to come back with a ten-goal defeat, but I want to think that we can win by two goals and score more than 26 times. For me, the competition has not finished yet," he said.
Brest Bretagne Handball (FRA) vs Vipers Kristiansand (NOR)
Saturday 10 March, 20:30 local time, live on ehfTV.com
Having topped Group B, Brest hoped to continue their good run against Vipers, but their voyage to Kristiansand turned into a big frustration. Following a 26:17 defeat, it will be extremely hard to overcome a nine-goal deficit.
"We knew that it would be difficult to win in Norway, and that Vipers have players of great talent. However, I did not think for a moment that we could lose by nine goals," Brest's coach Laurent Bezeau said.
Still he will motivate his players for the second leg and offers some hope of a miracle: "Of course we will try to win this match, and if we have to leave the competition, we will do it with our heads held high. As for a crazy comeback, nothing can be done without our great fans. After all, why not?"
Vipers take pride in claiming the biggest victory in the quarter-final first leg games, and it was actually their fourth win in a row in the competition, following a strong finish in the group stage which allowed the Norwegian side to go through.
"I don't think we could hope for a better standing point ahead of the match in France," said Vipers' right back Kristin Nørstebø. Obviously she and her teammates will stay focused in France, where they hope to confirm their superiority.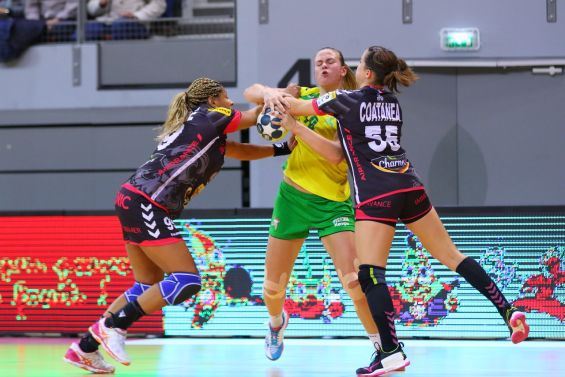 Larvik (NOR) vs Viborg HK (DEN)
Saturday 10 March, 17:00 local time, live on ehfTV.com
While Larvik face a somewhat less challenging task than Brest, overcoming a seven-goal deficit in the Nordic classic will also be really hard.
The first quarter-final clash of the two glorious teams had promised tight battle, so the final score 29:21 looked quite flattering for Viborg.
The Danish side enjoyed great spells at the beginning of both halves, and an excellent performance of their goalkeeper Rikke Poulsen was an important factor contributing to Viborg's success.
However, their coach Allan Heine knows that Larvik are capable of a strong home comeback. "When you win by seven goals, you should be satisfied. But we'll start from zero in Norway, and I know how intense it can be in Larvik. We have to realise that we are going to play a new and tough game there," he said.
Larvik, who were the first team to secure a spot in the quarter-final, had to swallow a bitter pill in Denmark, yet they still have a chance to redeem themselves in front of their home crowd.
The winner of this pair will meet either Brest or Vipers in the semi-final, so in case Larvik take revenge convincingly over their Danish rivals, there is a chance of seeing a Norwegian derby in the next round.
Kastamonu Belediyesi GSK (TUR) vs HC Zalau (ROM)
Sunday 11 March, 17:00 local time
The Turkish side could have won the first leg match in Zalau, as they held a three-goal lead at the break. Yet in the nerve-jangling closing minutes, the hosts managed to tip the scales in their favour and won 29:28.
However, such a narrow defeat was not too bitter for Kastamonu who will now try to take revenge on home court. The mission seems quite possible, especially given the fact that the Turkish side are particularly strong at home.
With their passionate fans behind them, Kastamonu won all three home games in Group C, which helped them to sensationally finish in the first place.
So Zalau face a hard task in Turkey, and they realise that their home win was too narrow to be seen as favourites before the second leg.
"Of course I would prefer to win by four or five goals. Our chances to go through have diminished, but you know what, never say never. I am thinking of two or three things that could surprise our rivals in the return match," said Zalau's experienced coach Gheorghe Tadici, who will, however, miss the second leg due to the Court of Handball ruling.
Author: Sergey Nikolaev / at