Craiova through after shock win in Russia
Three of the four second-leg Women's EHF Cup Quarter-finals took place on Saturday, and saw SCM Craiova, Viborg HK and Vipers Kristiansand claim their tickets to the semi-finals.

While Viborg and Vipers, who had confidently won at home a week before, both defended their first-leg advantages, Craiova pulled off an impressive comeback in Togliatti.

• Lada suffer their first home defeat in the EHF Cup season
• Craiova's Valentina Ardean Elisei top scores the day with nine goals
• Kastamonu and H.C. Zalau will meet to find the fourth semi-finalist on Sunday

QUARTER-FINALS, SECOND LEG
Handball Club Lada (RUS) vs SCM Craiova (ROM) 23:26 (8:14)
First-leg result: 25:23, aggregate: 48:49

Lada were seen as favourites and seemed to confirm that status in the first leg with a win in Romania. However, Craiova caused a sensation in Togliatti on Saturday, making it to the semi-final with a three-goal revenge victory.

A few days before the quarter-final clash, SCM beat CSM Bucuresti in the Romanian league, which clearly boosted their confidence – and a victory in Russia on Saturday night completed Craiova's brilliant week.

The experienced Valentina Ardean Elisei was the hero of the day, as she scored nine goals from as many attempts. Cristina Florianu, who netted six times, and goalkeeper Yuliya Dumanska (13 saves) were the other main contributors to CSM's victory.

In contrast, Lada's top scorer Daria Dmitrieva had some health problems, which affected her game, as the playmaker tallied just four goals.

"We failed in the first half. We had difficulties both in defence and in attack. Our team played better in the second half, but the Romanian goalkeeper [Dumanska] was better than in the first match," said Lada coach Aleksander Khomutov. "Our leader Daria Dmitrieva was playing today even though she has a fever. I thank her for playing."

Craiova's dominance was particularly clear in the first half, which they won by six goals. After the break, Lada quickly started to catch up, cutting the deficit to just one at 20:19.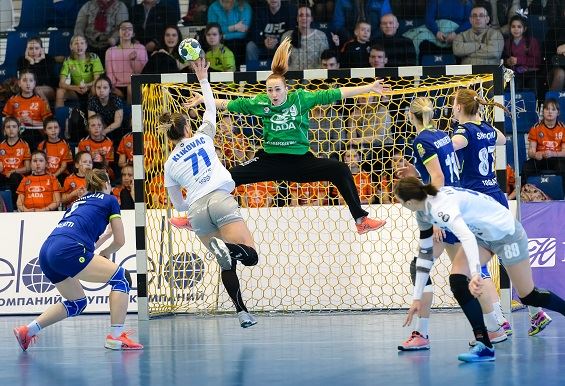 The visitors' head coach, Bogdan Burcea, called for a time-out, after which his team pulled clear again, 25:21. Lada slashed the gap to 25:23, mirroring the first-leg match, but 75 seconds from time, Ardean Elisei scored her ninth goal of the game from a penalty shot to secure the crucial distance of three for a one-goal win on aggregate.

In the semi-final, Craiova will face either Turkey's Kastamonu or fellow Romanian side Zalau, who are scheduled to meet on Sunday.

Larvik (NOR) vs Viborg HK (DEN) 26:27 (13:15)
First leg result: 21:28, aggregate: 47:55

Following a seven-goal defeat at Viborg, Larvik needed a strong comeback at home to squeeze into the semi-final. But that was not to happen, as the Danish team won the Scandinavian derby once again – though this time with a narrower margin.

The home side started the game at full speed, and Viborg were quick to find their rhythm in response. Like in the first-leg match, Rikke Poulsen did well in goal, and her teammates profited from fast breaks as a result.

At half-time, the visitors were up by two goals, which left Larvik just a tiny chance for the semi-final ticket. Viborg did not slow down early in the second half, playing well in defence and pulling ahead to 21:16 by the 40th minute.

It was only in the closing minutes that the Danish side relaxed their approach, allowing Larvik to cut the deficit, but Viborg held on to win and secure the semi-final berth.

Ann Grete Norgaard finished the game as Viborg's top scorer, with seven goals, while Kristine Breistøl netted eight for Larvik.

Brest Bretagne Handball (FRA) vs Vipers Kristiansand (NOR) 34:29 (18:17)
First-leg result: 17:26, aggregate: 51:55

In the semi-final, Viborg will find themselves facing another Norwegian side, after Vipers qualified for the next round despite a defeat in Brest.

Overcoming a nine-goal deficit was always going to be a significant challenge for the French side, and though the hosts did their best to please their fans, the home victory was not decisive enough for a semi-final ticket.

Brest had a slow start to the match and found themselves behind 3:8 in the 10th minute, which left the home side hardly any chance to pull off a miracle. However, they showed character, recording an 8:2 run during the next eight minutes, pulling in front 11:10 and going on to lead 18:17 at the break.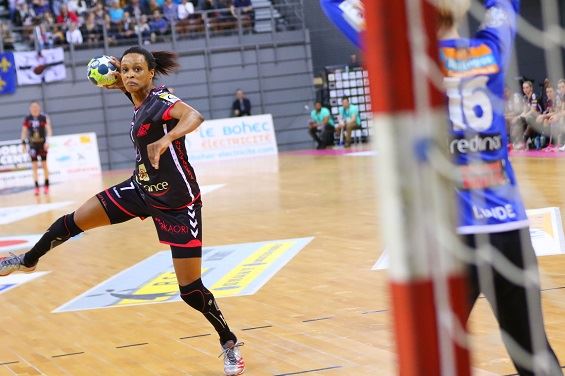 As many as 10 players netted for Brest, with Alison Pineau topping the scoring chart with seven goals. As the game progressed, the hosts' advantage became more visible, and when they led by five goals (31:26) the score line offered a ray of hope, but Vipers did not panic and reached their goal.
Author: Sergey Nikolaev / cg