The Cup Winners' Cup stays in Denmark
After Viborg HK won the tournament last year, FC Midtjylland have lifted the trophy this season, defeating Fleury Loiret Handball 24:19 in the IBF Arena of Ikast, giving the Danish team a four-goal win on aggregate.

With this triumph, Midtjylland have made it a great weekend for women's handball in Denmark, after Team Tvis Holstebro won the EHF Cup on Saturday.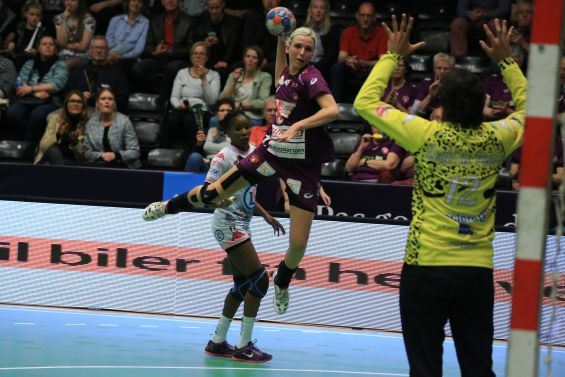 Women's Cup Winners' Cup final, Leg 2
FC Midtjylland (DEN) vs Fleury Loiret Handball (FRA) 24:19 (13:9)
First leg 22:23. Agg. 46:42

FC Midtjylland won the Women's Cup Winners' Cup for the second time in history, as they managed to turn the one-goal deficit from the first leg into a total four-goal win.

The Danish team had a setback from the start, as right back Line Jorgensen was not completely fit from the knee injury she sustained in the first match in France.

The experienced Danish international was only able to play in the defence and only in the second half.

This meant that 19-year-old Pernille Bogelund and right-handed Sabina Jacobsen had to take turns in the right back position in the attack.

This was not become a big handicap for the home team, though, as Jacobsen scored six goals with six attempts, while left back Stine Jorgensen was shooting considerably more successfully than in the first match.

Fleury coach Fred Bougeant tried with 5-1 and 4-2 defence at times, but that did not hinder the hosts' attacking play.

At the other end of the court, the cooperation between the visitors' back court players and their line players was not as efficient as in the first match, and several technical mistakes from Fleury allowed Midtjylland to run considerably more counter attacks than in the two teams' first meeting.

After a four-goal lead at half-time, Midtjylland cruised to a nine-goal lead during the second half.

In the last few minutes, Midtjylland coach Helle Thomsen gave match time to her substitutes, and that enable Fleury to reduce the gap to five-goals.

"As soon as we missed out on qualifying for the (Women's EHF) Champions League, we set ourselves the goal of winning the Cup Winners' Cup, so it is fantastic that we have done this.

"I think it was a great triumph to beat Fleury who have had some great wins in this tournament," FC Midtjylland´s Danish international Line Jorgensen said.
Photo: Kenneth Rosenkilde
Author: Peter Bruun / bc