All open after four-goal win for Saint-Raphael
The quarter-final tie between Saint-Raphael Var Handball and MT Melsungen in the Men's EHF Cup is still open after Saint-Raphael's four-goal win in the first leg in southern France on Saturday night.

Saint-Raphael were leading by six goals in the second half, but had to be content with the final result after Melsungen came within one goal with five minutes left.

• Saint-Raphael held their biggest advantage at 23:17 11 minutes into the second half
• With five minutes left, the home team were leading by just one goal at 26:25
• A penalty goal on the buzzer from Melsungen reduced the distance four goals as the teams look toward the second leg next Saturday

QUARTER-FINAL, FIRST LEG
Saint-Raphael Var Handball (FRA) vs MT Melsungen (GER) 30:26 (15:14)

The race for a LIQUI MOLY EHF Cup Finals ticket may still be open after Saint-Raphael's four-goal win in Palais des Sport JF Krakowski Saturday night however, both teams had the chance to improve their chances considerably along the way.
"We are satisfied with the result," said Saint-Raphael coach Joel Da Silva. "We could have won with a bigger difference but winning by four goals against Melsungen is a good result. This is going to be very difficult at the return game. Melsungen will play at home, in a great atmosphere…It will be a nice experience for us."

The start was equal, but from the middle of the first half, Saint-Raphael claimed the initiative and with it a four-goal lead, as they took the score from 8:8 to 12:8.

Melsungen struck back with four straight goals that levelled the score at 12:12, though Saint-Raphael could easily have been more than one goal up at half-time had it not been for a couple of missed fast break opportunities.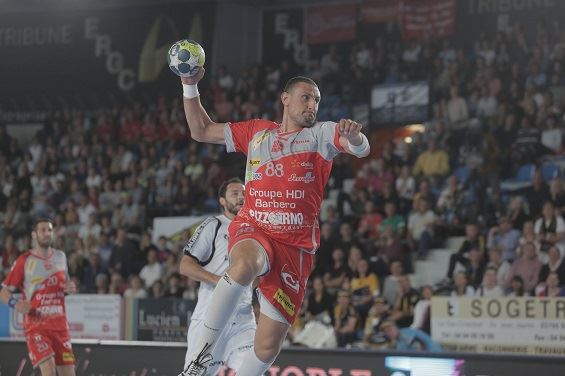 Saint-Raphael dominated the first part of the second half and had their biggest lead in the match at 23:17 after 11 minutes.

But once again, Melsungen came back and reduced the distance to only one goal at 26:25 with five minutes left.

Four consecutive goals from the home team brought them to a five-goal advantage again, before Melsungen reduced the distance to four goals with a buzzer-beating penalty shot.

The second leg is being played in the Rothenbach-Halle in Kassel next Saturday.
Author: Peter Bruun / cg