First Finnish team ever in group phase
For the first time in history, Finland are represented in the group phase. The Cocks made sure of this, as the Finnish champions got away with a 30:29 defeat in Poland against Górnik Zabrze.
As Cocks won their home game as big as 30:19, the narrow defeat was not threat to their group phase berth. The distance at half-time was also only one goal, as Górnik were leading 14:13 in the Hala Sportowa Pogon, and Cocks' overall win was never in danger.

Despite missing no less than four players, HC Midtjylland managed to qualify for the group phase in the Danish Cup winners' first European campaign in history. While former Danish international Kristian Gjessing was ill, Norwegian international Espen Lie Hansen as well as right back Kasper Gudnitz and left wing Jorgen Rasmussen were sidelined with injuries.
Yet, Midtjylland managed to win as big as 35:26 at home against Dinamo Astrakhan, and after the two teams drew 29:29 in the first leg in Russia, this was more than enough for the home team.
The match was equal until 8:7 for Midtjylland at the middle of the first half, but from then on, the hosts increased their lead to 17:12 at half time and 35:26 at the final buzzer. After GOG and KIF Kolding Kobenhavn qualified Saturday, HC Midtjylland became the third Danish team in the group phase.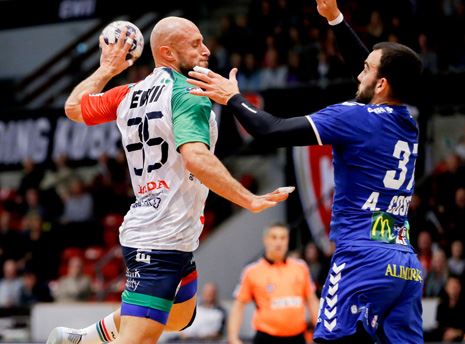 For the first time, Portugal will have two teams in the group phase, when the draw is taking place Thursday. After FC Porto qualified Friday, S. L. Benfica followed them Sunday. Benfica were down 34:29 after their first match in Poland against KS Azoty-Pulawy, but in the return match in Lisbon, Benfica proved able to turn the tables.
After an 11:8 lead at half time, Benfica won 24:18 and proceed to the group phase. To Polish handball, the third qualification round became a disappointing affair, as both Polish teams, Zabrze and Pulawy were sent out.
Author: Peter Bruun/tm