Göppingen directly to finals while Füchse win group
Following their win in Granollers on Sunday, Frisch Auf Göppingen have qualified directly for the LIQUI MOLY EHF Cup Finals, which the German club will be hosting.
Another German team, Füchse Berlin, qualified for the quarter-finals as their eight-goal win at home against Ribnica was enough to secure the first place in their group.
• On Sunday, Grundfos Tatabanya KC reached the quarter-finals after SC Magdeburg qualified on Saturday
• As Göppingen are through to the finals, only three quarter-finals will be played
• Next week brings the decision which second-placed teams will not make it to the quarter-finals
GROUP A:
Füchse Berlin (GER) vs RD Riko Ribnica (SLO) 38:30 (18:14)
Füchse are into the quarter-finals after securing the group win with a clear victory at home against Ribnica Sunday afternoon.
It did not take the home team long to get ahead 8:2, and the six-goal lead remained until 12:6. The visitors reduced the distance a bit before the half-time buzzer.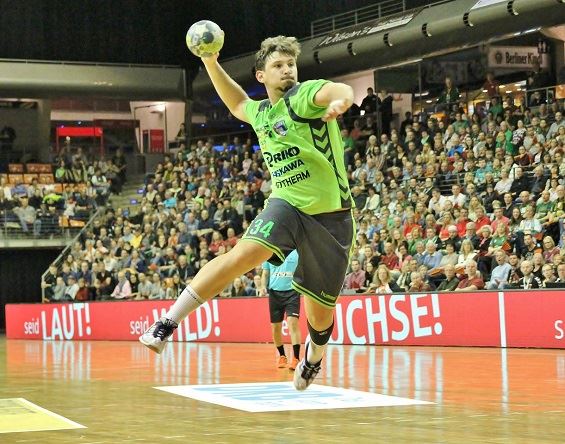 In the second half, Füchse increased their lead again - to nine goals several times - before winning by eight.
Füchse coach Velimir Petkovic said his team were "happy to fulfil this task and reach a goal on our way. I am very proud of this team."
His Ribnica counterpart, Robert Begus, said his players in the first 15 minutes were "too impressed" by the conditions in the large hall. "After that we started to play but it was too late."
5926 spectators in the Max-Schmeling-Halle saw Swedish right wing Mattias Zachrisson become the most scoring player with nine goals.
Left back Jan Grebenc scored seven times for Ribnica, who are still on zero points while Füchse are on 10.
GROUP B:
Fraikin BM. Granollers (ESP) vs Frisch Auf Göppingen (GER) 27:35 (11:14)
The 60 Göppingen fans who accompanied their team to Spain had a great Sunday evening in the Palau d´Esports in Granollers.
The win means that Göppingen are sure to win the group, and as organisers of the 20-21 May finals, they can now skip the quarter-finals.
Granollers, who needed a win to have a chance of winning the group, kept the game level for most of the first half, where the hosts were even leading a few times.
However, Göppingen changed an 11:10 deficit into a 14:11 lead at half-time.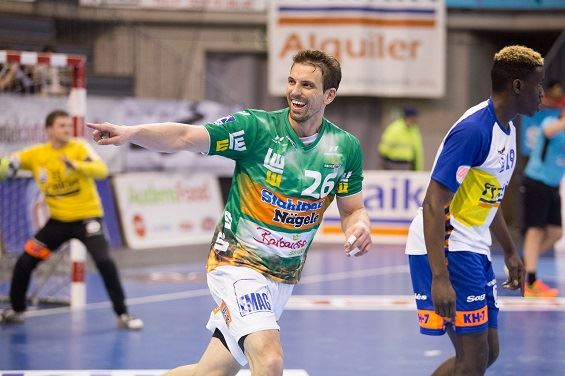 In the second half, the visitors never looked back and continued to increase their lead. Playing seven against six in the attack did not help Granollers, and neither did an extremely aggressive defence.
"We played a very good game. Defence and goalkeeping have helped us to get a deserved win," Göppingen coach Magnus Andersson said. "Now we are looking forward to the finals tournament."
Granollers, who reached the finals last year, still have a theoretical chance to make the quarter-finals this season. They need a win in Denmark against HC Midtjylland in their last match next Saturday – and even then they will be depending on results from other groups.
GROUP D:
Cocks (FIN) vs Helvetia Anaitasuna (ESP) 28:33 (18:17)
Cocks have not got any points so far, but the Finnish group phase debutants have been known for playing close matches at home.
Their last home game in Europe this season started in similar fashion but in the end, Anaitasuna left no doubt about which team still had a quarter-final berth at stake.
However, the Finnish champions were leading by three and four goals several times during the first 30 minutes. But their advantage was down to one by half-time, and in the second half the guests were dominating.
With five goals in a row, the Spanish side built a 24:19 lead. Anaitasuna also got six goals up at 26:20 before winning by five.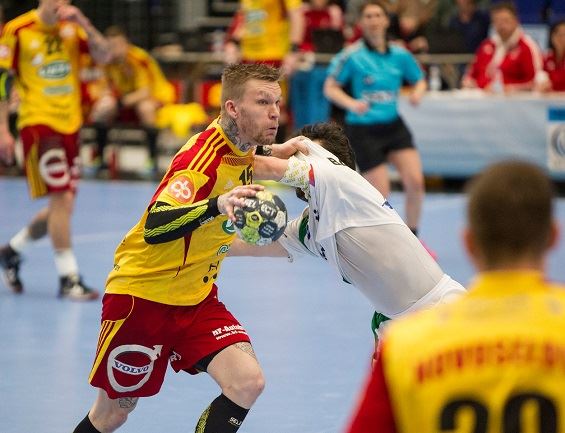 Two players scored 10 goals each for their teams – left back Nico Rönnberg for Cocks and Carlos Chocarro Gorraiz for Anaitasuna.
"The start of the second half was very bad with two quick technical mistakes which the opponent converted to goals," Cocks coach Gintaras Savukynas said. "We really did not get our attack working in the second half.
Anaitasuna coach Juan Tomas Apecetxea said his team "were very nervous in the beginning, maybe because this was a very important game for us. Cocks started with a very good defence and scored many fast goals from our technical mistakes. In the second half was very good for us and the result satisfying."
In case of a home win against S. L. Benfica on the last match day on Saturday, Anaitasuna can cause a real upset in the group. If MT Melsungen win at home against Cocks, three teams will finish on eight points in the battle for the two quarter-final tickets.
Author: Peter Bruun / ew