Crunch time as group phase reaches half-way mark
The Men's EHF Cup Group Phase continues with second-leg matches this week as all opponents have already met. The first to be played as early as Wednesday when Frisch Auf Göppingen meet HC Midtjylland.

• Only three teams in the group phase remain undefeated: SC Magdeburg, Frisch Auf Göppingen and Füchse Berlin
• RD Riko Ribnica, Maccabi CASTRO Tel Aviv and Cocks are still chasing their first points
• The teams who met in the latest round all face each other again this week

GROUP A
Saint-Raphael Var Handball (FRA) vs RD Riko Ribnica (SLO)
Saturday 11 March, 20:45 local time

Saint-Raphael Var Handball earned their first points in the group phase this season against Ribnica, when the French side won 31:24 in Slovenia on Sunday.

It was only in the last minutes that Saint-Raphael's win proved so decisive, but the French team are still the clear favourites at home against the European debutants from Ribnica, who are one of the three sides in the group phase still waiting for their first points in the competition.

Saint-Raphael are also in need of two points in order to keep up with Füchse Berlin and GOG in the battle for the quarter-final tickets.

GOG (DEN) vs Füchse Berlin (GER)
Sunday 12 March, 16:00 local time

GOG were virtually run over by Füchse Berlin when they visited Max-Schmeling-Halle in Berlin last week for the top game of the group.

The score board said 37:29 for Füchse after the 60 minutes, but former Füchse captian Torsten Laen, who is now representing GOG, believes in his team's chances in the home match.

"We have plenty of handball in us and also a lot of physical strength, and I think we learned so much in our first match against Füchse that we have a very good chance at home," said Laen.

The match has been moved from GOG's usual home ground in Gudme to Sparekassen Arena Fyn in Odense.

Ahead of the game, Füchse are leading the group with six points – two points more than GOG.

GROUP B
Frisch Auf Göppingen (GER) vs HC Midtjylland (DEN)
Wednesday 8 March, 19:30 local time

Only five days after their first meeting in the group phase, Göppingen and Midtjylland take to the court again.

Göppingen won in a match between two injury-depleted teams in Herning on Saturday night, with a final score of 25:22 after an equal game, during which both sides took turns in the lead.

With six points after their first three matches, defending EHF Cup winners Göppingen can virtually secure access to the next stage in case of another win in EWS Arena, while Midtjylland, still on two points, are beginning to feel the pressure as they try to keep their quarter-final hopes alive.

Fraikin BM. Granollers (ESP) vs Futebol Clube do Porto (POR)
Sunday 12 March, 16:30 local time

Through an impressive comeback, Porto managed to win the first meeting between these teams 23:22 last Saturday.
The win was the first in the group phase for the Portuguese side, and they are now on two points alongside Granollers, who reached the finals last season.

The winner of the match in Palau d´Esports de Granollers on Sunday will revitalise their chances of reaching the quarter-finals, while the prospects will start to look gloomy for the losing side.

GROUP C
KIF Kolding Kobenhavn (DEN) vs Grundfos Tatabanya (HUN)
Saturday 11 March, 19:00 local time

Kolding are chasing revenge for the 28:26 defeat in Hungary last Saturday, while also aiming to take back second place in the group, which they surrendered to Tatabanya with that loss.

Tatabanya have to play their EHF Cup home games in Audi Arena, Györ, as their own court does not meet the requirements for such matches.

Kolding also have to play a home game away from home when they host the Hungarian team. As the Danish side's two usual home grounds, Koldinghallen and Brøndbyhallen, are both occupied the match has been moved 60 kilometres north to Forum Horsens.

SC Magdeburg (GER) vs Maccabi CASTRO Tel Aviv (ISR)
Sunday 12 March, 17:00 local time

Magdeburg recorded the largest win of all teams in the group phase so far when they won by no less than 38:22 in Tel Aviv last Saturday – a result that makes the Bundesliga team clear favourites at home in Bördelandhalle on Sunday.

The Israeli champions are still without any points in their maiden European cup group phase voyage, while Magdeburg are undefeated with five points after their first three matches.

The only point the German side have lost was the 23:23 draw away against KIF Kolding Kobenhavn in their opening game of the group phase.

GROUP D
S. L. Benfica (POR) vs Cocks (FIN)
Saturday 11 March, 16:00 local time

Thing are looking up for S. L. Benfica after their 32:22 opening defeat away against Melsungen. Following a clear 33:28 win at home against Anaitasuna, they landed a narrow 23:21 victory versus Cocks in Finland this past weekend.

This places the Portuguese club on four points, just like Melsungen and Anaitasuna, in the tightest group at the moment.

Cocks are one of the three teams in the group phase who are still chasing their first points in the competition, and the Finnish champions are therefore the underdogs when the two teams meet again, this time in the Pavilhao EDP Benfica Lisboa on Saturday.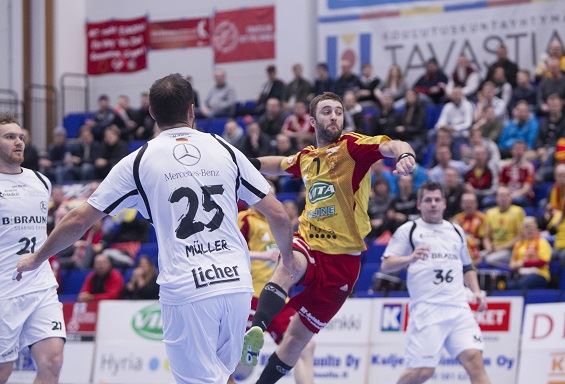 MT Melsungen (GER) vs Helvetia Anaitasuna (ESP)
Saturday 11 March 19:30 local time

Helvetia Anaitasuna caused MT Melsungen their first defeat in the group phase when they won 23:22 at home last Saturday, benefitting from a perfect start and an early 8:3 lead.

With the victory, the team from Navarra opened the group completely, as there are now three teams on four points – Anaitasuna, Melsungen and Benfica.

There is no doubt that Melsungen will be yearning for revenge when they take on Anaitasuna again. This time the match will take place in Rothenbach-Halle in Kassel, where the winner can take a huge step towards the quarter-finals.
Author: Peter Bruun / cg