Revenge for Melsungen, another win for Tatabanya
A great second half was enough for MT Melsungen to avenge the narrow defeat against Anaitasunsa in Men's EHF Cup Group D last weekend.

In Group C, Grundfos Tatabanya were trailing most of the match away against KIF Kolding Kobenhavn, but won thanks to a brilliant finish, while Saint-Raphael had their trouble at home against Rico Ribnica before taking another victory in Group A.
Melsungen take revenge against Anaitasun despite trailing for 35 minutes

Tatabanya defeat KIF Kolding Kobenhavn for the second time in a week

Cocks and Ribnica are the only teams without a theoretical chance of reaching the quarter-final stage
GROUP A
Saint-Raphael Var Handball (FRA) vs RD Riko Ribnica (SLO) 26:22 (15:14)

Last weekend, a strong finish secured Saint-Raphael a clear 31:24 away win against Ribnica, but that was not the way it turned out on Saturday in France.

"It was a second final for us, we were forced to win. Nervously, it was difficult. We defended well in the second half, it is thanks to that that we win tonight," said Saint-Raphael coach Joel Da Silva.

Saint-Raphael did win again, but this time the Slovenian team managed to keep the game close until the end, and it was not until the very last minutes that the French favourites decided the game definitively.

Even though Saint-Raphael were in the lead during the vast majority of the first half, Ribnica were able to follow them within a distance of one or two goals, and at half-time, only one goal was still separating the teams.

Early in the second half, the visitors were even ahead at 17:16 and 18:17, but four goals in a row gave Saint-Raphael their first three-goal lead.

Ribnica came back once again, reducing the distance to only one goal, and it was not until Raphael Caucheteux made it 26:22 on a penalty that the match was decided.

GROUP C
KIF Kolding Kobenhavn (DEN) vs Grundfos Tatabanya (HUN) 26:29 (16:14)

Tatabanya took a huge step towards the quarter-finals with an away win on Saturday. Kolding were leading almost constantly throughout the first 50 minutes, but with a far better finish, the Hungarian side took the win at the final whistle.

Kolding were still missing injured left wing Magnus Landin, whose absence was noted in the defence. At the start however, this did not seem to handicap the home team seriously.

Kolding soon took a three-goal lead and led by three or four goals during most of the first half.

Well into the second period Kolding were still leading by three, but with 13 minutes left, Tatabanya managed to catch up. When the clock showed eight minutes remaining, the Hungarian fans in Forum Horsens could celebrate the first lead for their team, as Adam Juhasz made it 23:22.

One minute later, Tatabanya pulled ahead by two and finally increased their win to three.

"I would not say that this means we are out of the EHF Cup, but we will probably need a win in Magdeburg now in order to go on.

"We could have won this, and I think we threw it away ourselves," said Kolding left wing Jens Svane Peschardt.

Bo Spellerberg from KIF and Milos Vujovic from Tatabanya scored eight goals each.

GROUP D
S. L. Benfica (POR) vs Cocks (FIN) 26:25 (11:10)

Benfica boosted their quarter-final hopes as they moved up to six points with a victory on Saturday. Cocks came very close to earning their first point ever in a European group phase – but after a dramatic end, the Portuguese side took both points.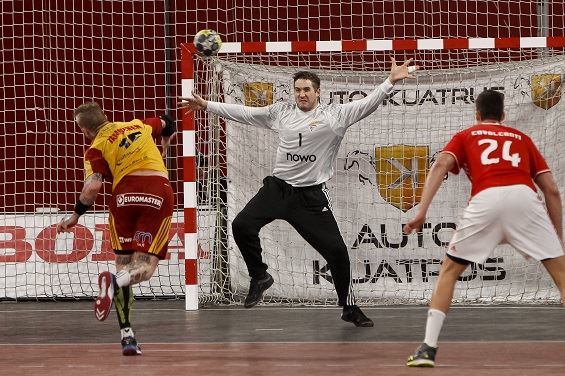 Following a red and blue card for Cocks player Aliaksandr Tsitou, Benfica's top scorer Alexandre Cavalcanti scored the home team's winning goal on a penalty after the buzzer.

The entire 60 minutes were close, with never more than two goals separating the teams. Benfica were leading most of the time, but Cocks also had their advantages before the game was decided with the dramatic finish.

Left wing Cavalcanti from Benfica and left wing Teemu Tamminen from Cocks scored nine goals each. With the defeat, Cocks lost their last theoretical chance to reach the quarter-finals.

MT Melsungen (GER) vs Helvetia Anaitasuna (ESP) 28:22 (10:11)

A great second half was enough for Melsungen to exact revenge for the 23:22 away defeat to Anaitasuna last weekend.

Melsungen was missing left wing Johannes Sellin due to injury, and in the first half this seriously affected their attack.

After an early 2:0 lead for Melsungen, Anaitasuna took over and were leading by two or three goals for the rest of the first half.

At the beginning of the second period, the visitors held on to a two-goal lead, but after Melsungen reclaimed the lead at 14:13 they did not look back.

The level score of 14:14 became a 20:14 lead for Melsungen, who were eight goals ahead several times before winning by six.

"Melsungen had the far better second half. Also, their keeper was a lot stronger than before half-time," said Anaitasuna goalkeeper Henrik Nordlander. "Nevertheless, I have a lot of fun playing European games in general even when we lost this match today."
Author: Peter Bruun / cg