Young stars seal Fuchse's first international title
Füchse Berlin are the first hosts of EHF Cup Finals to win the title. After Nantes (2013) and Berlin (2014) had failed, the German side took the title after a thrilling but tough all-German final against HSV Hamburg on Sunday, coming out on top 30:27.
In the end, the youngsters Paul Drux and Fabian Wiede did the damage and even ten goals from an outstanding Kentin Mahe were not enough for HSV, who were in addition shocked by a severe injury of Davor Dominikovic.
After becoming German Cup winner in 2014, the EHF Cup is the first international trophy for Füchse – and a perfect farewell for coach Dagur Sigurdsson and players Konstantin Igropoulo, Iker Romero and Petar Nenadic.
For the 16th time a German club won the EHF Cup. Hamburg will have to wait to complete their silverware cabinet after winning the Cup Winners' Cup in 2007 and the VELUX EHF Champions League in 2013.
"It was a simply incredible weekend, a brilliant farewell to Berlin," said Füchse coach Dagur Sigurdsson, who will quit his job after this season to fully focus on the German national team.
EHF Cup Finals, final:
Füchse Berlin (GER) vs HSV Hamburg (GER) 30:27 (16:13)
The arena was rocking with over 8,000 vociferous spectators, a perfect setting for the final. Both sets of fans gave 100% support for their teams, and they were all surprised that Danish Jesper Nielsen was in the Füchse squad. Due to stomach problems, the defensive specialist could not have a single training session in the previous week and had missed the semi against Velenje. But for the final he was back.
The initial minutes were imprinted by a brilliant start from Russian Konstantin Igropoulo. He gave them a 6:3 lead with his fourth goal of the game from the right back position.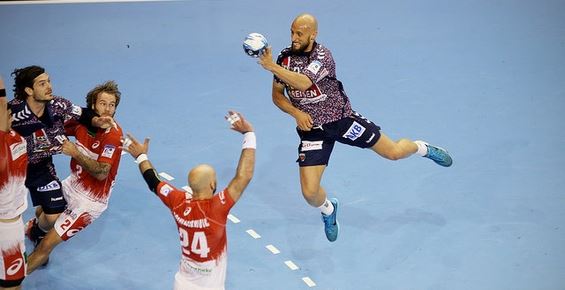 This goal was the first turning point in this match: Hamburg went on a 4:0 run to be in lead for the first time at 7:6. Even a man-to-man defence against playmaker Kentin Mahe did not stop the 2013 VELUX EHF Champions League winners.
In minute 19 all spectators and the players on the court were shocked by a severe shoulder injury to Hamburg's Croat Davor Dominikovic. When trying to reach a rolling ball, he got injured and had to be treated on the court for several minutes before being brought off courthospital. It was the second injury hit at the EHF Cup Finals for HSV after Johan Pettersson had torn his Achilles in the semi-final against Skjern.
"We cannot say now, how severe the injury is," said HSV coach Jens Häusler, "but it looked really heavy."
As also Alexandru Simicu had been suspended by his second two minutes in minute seven already, the whole defensive concept of HSV coach Jens Häusler was thrown out the window.
And his players needed a long time to recover from this injury shock. Berlin took the profit, scoring a 9:3 run in the next nine minutes to go 15:10 up thanks to a Serbian on fire, Petar Nenadic, who netted in five of his in total 6 goals before the break.
Hamburg found their rhythm again to reduce the gap to three goals at the break and stayed only a very short time in the locker room to prepare on court.
Just like the first half, Igropoulo was the key to Berlin as they extended the gap in the first minutes of the second half again in a heavily-fought battle, with tough defence on both sides. Simicu was sent off after his third suspension and his team was down 16:21 with 20 minutes to play.
Nothing was decided, in contrast the roller coaster turned again. Berlin could not find a way past a now brilliant goalkeeper Johannes Bitter, Hamburg scored five times as cold as ice, and all in a sudden it was a 21:21 just four minutes later. Mahe was the leader of the HSV pack, scoring, passing, simply dominating.
"We had been shocked for ten minutes, but then we were back on track. Unfortunately we lacked the luck to take the lead," Häusler said, adding: "I am so proud of this team, but now we are completely disappointed."
But Hamburg could not take the lead as the measure to bring Peter Stochl into the Berlin goal, replacing Silvio Heinevetter, was a masterstroke. Stochl saved some important shots, while Fabian Wiede and Paul Drux provided Füchse with some air to breathe, striking for several two-goal leads.
But on the other side, Mahe was striking and striking. His tenth goal (seventh by penalty) made it 27:28 with 90 seconds to go. On the other side it was again Wiede – and finally a save by Stochl sealed the first international trophy for Füchse after a titanic battle.
And one Füchse player was even celebrating more than the rest: Iker Romero. "It was a perfect farewell to end my career with this trophy. Thank you Berlin, thank you handball for 20 great years."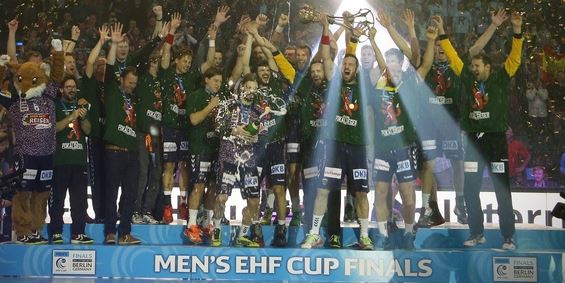 Author: Björn Pazen / cor