Will three be Simicu's lucky number?
Whenever EHF Cup Finals are played on German ground, Alexandru Simicu is on court.
The 28-year-old Romanian left back was part of the events in Berlin in 2014 for Romanian side HCM Constanta and one year later for HSV Hamburg.
Now, with the LIQUI MOLY EHF Cup Finals set in Göppingen, Simicu is back – with his current club Saint-Raphael Var Handball.
"And it could have been my fourth participation," said Simicu to eurohandball.com on Friday. "But unfortunately I got injured during the first leg of the 2016 quarter-finals Saint-Raphael against Chambery. We won by five goals, but then I could not help my teammates anymore and we were eliminated with a 29:22 defeat and missed out on the EHF Cup Finals in Nantes."
So now he hopes that three will be lucky number – Saint-Raphael clinched their first ever berth for a semi-final and will face Füchse Berlin in the fight for a final spot on Saturday. "It is always Berlin for me," Simicu said with a smile.
"When I played Champions League with Constanta, we faced Berlin in the group phase. Then we played against them in the 3-4 placement match at the EHF Cup Finals in Berlin in 2014. One year later, I was finalist with Hamburg against Füchse again and were defeated, and this season we locked horns twice with Berlin in the group phase."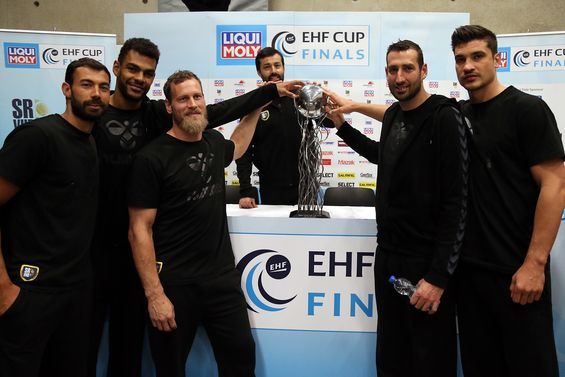 While Simicu's and Constanta's performance at the EHF Cup Finals 2014 were praised and caused a real hype in Romania, his memories on the 2015 event were mostly disappointing: "After three early and partly questionable suspensions I received a red card already before the break.
"As also my defence colleague Davor Dominikovic had to be carried to the hospital, our chances were clearly limited." Finally, his spell in Hamburg ended after one season then Simicu joined Saint-Raphael in 2015.
"My season in Hamburg was one of the best experiences in my whole career. The club was so professional and our owner Andreas Rudolph did everything for us." Though, Simicu made his way to the south of France: "Compared to Hamburg the weather is another advantage," he said with a smile on his face.
Now, Saint Raphael have the chance to make history as no other French team has before won the EHF Cup or the Cup Winners' cup. "If we are in our best form, we can beat everyone. We have proven our strengths already by beating Berlin and then Melsungen in the quarter-finals. We are confident of pulling off a historic weekend."
As both sides have clashed already, Simicu does not expect "any surprise packages. We know them; they know us, in terms of individual skills and team tactics. So I hope to raise the trophy three years after my final frustration in 2014.
Author: Björn Pazen / bc