Beutler looking forward to meeting old friends
For Dan Beutler, it will be a meeting with old acquaintances, when he and his teammates from IFK Kristianstad meet HSV Hamburg in Qualification Round 3 of the Men's EHF Cup.
HSV was the club, in which the 37-year-old Kristianstad keeper ended his ten year stint in the German Bundesliga with two seasons, from 2011 to 2013, before he returned home to Sweden after a short stay at al-Jaish in Qatar.
"Of course, it will be special. I still know many of the players in Hamburg which was my club for my last two years in Germany," Dan Beutler tells eurohandball.com ahead of the first meeting between the two teams in a sold-out Kristianstad Arena Wednesday evening.
"Matches like this are some of the experiences which still make it great fun to play handball," admits the former Swedish international, who can look back on a lot of great experiences in the Bundesliga, EHF Champions League and with the Swedish national team.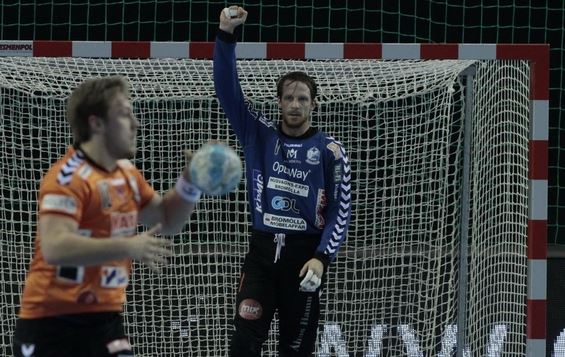 Financial trouble has meant that the current HSV team does not have the same level as the one, Dan Beutler left in the spring of 2013.
Several players have left the club, but still the team is to be found in fifth position in the Bundesliga and in Beutler´s opinion, the German side is still a more than a competent match for Kristianstad.
"It is correct, of course, that the Hamburg team is not the same as it once was, but many of the players are still the same, and I am sure that we are in for two extremely difficult matches in our attempt to reach the group phase.
"However, nothing is impossible, and if each and every one of us performs to his absolutely best, we may have a chance, although it will be hard to win over two matches.
"At first, it is all about getting a good result at home, and that may be difficult enough in itself," finds Beutler.
Group phase would mean a lot
If Kristianstad manage to overcome HSV, the EHF Cup Group Phase will be waiting for the team from southern Sweden.
Last season, Kristianstad were also among the 16 teams who reached the group phase, but with only two points as the pay-off.
The experienced goalkeeper is hoping for another chance this year, although he realises that it will be difficult to overcome the final hurdle.
"Reaching the group phase once again would mean a lot to us, and not least to the many young players in our team who would benefit considerably from playing those tough matches against some of the best teams in Europe
"As I said, it will be extremely difficult, but nothing is impossible if you believe in yourself," concludes Dan Beutler.
Author: Peter Bruun / cor