Hamburg overcome trouble to get narrow win in Sweden
In 2013, HSV Hamburg won the VELUX EHF Champions League. Much has happened in between, and now it is the EHF Cup for the traditional club for North Germany. On Wednesday evening, Hamburg took a major step towards the group phase of that tournament, as they opened the third and final qualification round with a two-goal away win against IFK Kristianstad.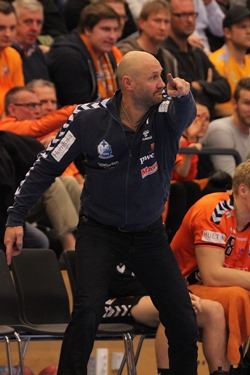 Men's EHF Cup, Qualification Round 3, first leg:
IFK Kristianstad (SWE) vs HSV Hamburg (GER) 27:29 (16:10)
Before the game, Kristianstad goalkeeper Dan Beutler stated that he was looking forward to seeing old friends from his time in Hamburg again.
At first, the feeling may not have been mutual, as those old friends from Hamburg had a lot of trouble getting the ball past the 37-year-old veteran.
Beutler's performance in the Kristianstad goal played a big part in the home team dominating the first half, much to the pleasure of the vast majority among the 5,000 spectators in a sold-out arena.
Kristianstad soon got ahead 5:2, and although Hamburg moved closer, the hosts were able to increase the lead again and be up with no less than six goals at half-time.
As the second half progressed, though, the visitors managed to work themselves back into the game, and with eight minutes left, Hans Lindberg equalised to 24:24.
Less than one minute later, Torsten Janssen gave Hamburg their first lead in the match at 25:24, and from then on, the guests managed to save a two-goal win which obviously gives them the edge ahead of the return match in the CU Arena of Hamburg on 30 November.
Photo: Peter Lindström
Author: Peter Bruun / br