Montpellier grab ticket to Berlin with large win
EHF Cup Quater-finals, second leg
Montpellier Agglomeration HB vs HBC Nantes 33:24
Montpellier win 59:49 on aggregate
All participants were looking forward to a close game and a tough fight between Montpellier and Nantes for a ticket to the EHF Cup Finals. And it all started as foreseen. A first shot after ten seconds played, the first goal by Issam Tel for Montpellier after twenty, this quarter-final started more like a sprint than like a marathon. But, much to Nantes' dismay, Thierry Omeyer decided to lock his goal in the same fashion he had done at the end of the first leg.
His saves helped Montpellier use fastbreaks to create a quick gap, 6:2 after 10 minutes. Initially shoked, Nantes came back into the game little by little, thanks to a efficient time-out and a change of defense. A 4:1 run and two goals by young line player Nicolas Tournat helped the visitors to narrow the gap to just one, but that was the last time of the game Nantes were able to get that close.
Lost balls and missed shots were punished by fast breaks finished off by Dragan Gajic. The Slovenian right wing, once again best scorer of the game with 10 goals, scored five in the first half and helped Montpellier to go back to the dressing room with an eight-goal advantage. Besides Omeyer and Gajic, it was the whole Montpellier defence which was impressive, regardless of which player was on court.
But this lead did not seem enough for Montpellier. Two minutes into the second half, and thanks to an another fastbreak by Gajic, the hosts were ahead by ten goals. Nantes' offense was tongue-tied, relying on Entrerrios and Maqueda to find the solution. The two Spanish back court players, scoring seven and eight goals respectively, were the only ones to perform for Nantes, while their wingers only put one ball in the net during the whole game.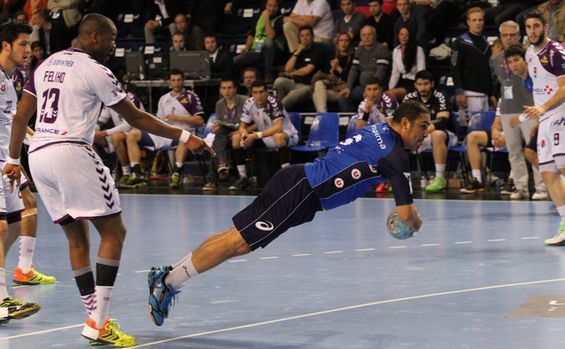 Ten minutes into the second half, Gajic scored another fast-break to give his team the biggest lead of the game - 11 goals. Another change of goalkeeper in Nantes' camp helped to narrow the gap a little bit, along with the good entrance of Jonsson, who scored three times in the last quarter of the game.
However, this timid reaction was not enough, and with a nine-goal lead (33:24), Montpellier won the right to take part in their first EHF Cup Finals.
Thierry Omeyer, one of tonight's heroes with 20 saves, revealed afterwards that: "Starting off very quickly was part of the plan, to prevent them from gaining confidence. It worked out well, our defence was very strong right from the start and it helped us get a quick big lead. At half-time, we told ourselves just to carry on playing this way and to please the fans. I think we did a good job at this as well."
His coach Patrice Canayer said: "I want to praise to whole team. Sure, Thierry Omeyer and Dragan Gajic are the obvious best players of the game, but every player of our team played his role perfectly. We've got the chance to win our first EHF Cup, but we know that the road is long to win this title."
Thierry Anti, astonished by the game, said: "Montpellier was the best team on the court tonight. Even a blind guy could have told you that. They had a very efficient first half, and with an eight-goal difference at half-time, only a miracle could have saved us. Sadly, it didn't happen. Good luck to Montpellier, and I hope their quest for the title ends in a better way that ours last season," concluded Anti, referring to when Nantes lost the competition's final against Rhein-Neckar Löwen on home court.
Author: Kevin Domas / cor