Magdeburg first to qualify for quarter-finals
A 12-goal win at home against KIF Kolding Kobenhavn sent SC Magdeburg on to the quarter-finals with one match day left in the Men's EHF Cup Group Phase.

Several other teams may follow the German club on Sunday, depending on the number of quarter-finals – there will only be three if Frisch Auf Göppingen qualify for the LIQUI MOLY EHF Cup Finals, which they are hosting.

• Danish international Michael Damgaard scores 11 goals against his fellow countrymen from KIF Kolding Kobenhavn
• Two injuries and a red card do not stop Saint-Raphael Var Handball from avenging their opening defeat against GOG
• S.L. Benfica take the lead in Group D after a thriller against MT Melsungen
• SC Magdeburg are the only team completely sure to reach the quarter-finals

GROUP A
GOG (DEN) vs Saint-Raphael Var Handball (FRA) 28:32 (15:17)

Injuries for French international Adrian Dipanda and Romanian goalkeeper Andrei Mihai Popescu, plus a red card for playmaker Daniel Samiento nine minutes into the second half, could not stop Saint-Raphael from avenging their 36:32 defeat at home against GOG in their opening match of the group phase. However, the French club are still far from seeing the quarter-finals on the horizon.

In case there will only be three quarter-finals, Saint-Raphael will need a home win against Füchse Berlin on the last match day in order to maintain their chances of proceeding.

GOG were leading most of the first half of the match, which was played at a high speed. However, towards the break, Saint-Raphael took over and were two up at the buzzer.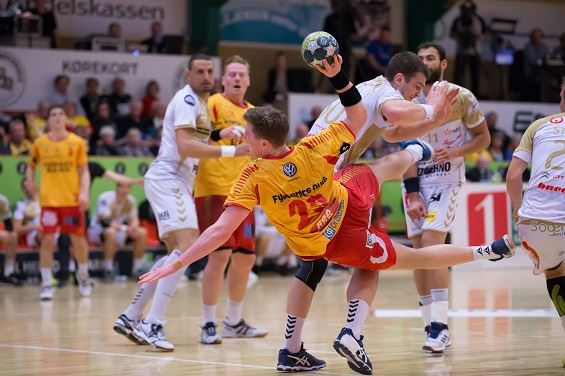 The visitors were also dominant for most of the second half, but as Magnus Joendal gave GOG their first lead after the break, at 26:25 with 10 minutes and five seconds left, the home team seemed to be heading for another win.

Yet the next seven goals were scored by Saint-Raphael, and with the visitors leading 32:26 shortly before the end, the two points were decided.

"GOG like to run, but we followed our tactics very well and at half-time we managed to correct a few mistakes," Saint-Raphael's Danish line player Alexander Lynggaard said.

GROUP B
Futebol Clube do Porto (POR) vs HC Midtjylland (DEN) 33:25 (16:14)

The winner of this match can only hope for a chance to reach the next stage if there are four quarter-finals – and after Saturday's result Porto can keep hoping until at least Sunday.

Midtjylland came to Portugal without much self-confidence after 10 straight defeats in the Danish league and three successive losses in the EHF Cup Group Phase. In fact, their latest win was the 29:26 victory against Porto in their first group match.

Midtjylland had the initiative for the first quarter of an hour, where they were leading by a goal or two all the time.

From the middle of the first half however, Porto took over and pulled three goals ahead just before half-time.

In the second half, the home team left no doubt, but increased their lead more or less continuously, fighting for their theoretical hope to reach the next round.

"When you win a match like we did, you have to do a lot of things right. It was our best performance in this edition of the EHF Cup and I'm happy because we did our job," said Porto coach Ricardo Costa.
GROUP C
Maccabi CASTRO Tel Aviv (ISR) vs Grundfos Tatabanya KC (HUN) 20:24 (10:12)

With Saturday's win, Tatabanya secured a top-two finish in the group – but they cannot be completely sure of qualifying for the quarter-finals yet. In case there are only three quarter-finals, eight points may not be enough to proceed from second position.

Yet the Hungarian team still have everything in their own hands. A win at home against Magdeburg in their last match next Saturday will earn them the group win and remove the last doubt about their quarter-final berth.

Tatabanya had to struggle for the two points in Tel Aviv, though. The first half was equal, and only two goals in the last 30 seconds secured the visitors their 12:10 lead at half-time.

Maccabi Tel Aviv had the better start to the second half, leading 15:13 before Tatabanya reclaimed the advantage for good. Still, it was not until the last 10 minutes that the visitors managed to decide the match in their favour.

"Today it was a tough game for us. I need to be happy, because we got the two points, but I am not because we played very bad. Now we have a very tough match against Magdeburg for the first place in the group. It won't be easy and I hope that we will play much better," said Tatabanya coach Vladan Matic.

SC Magdeburg (GER) vs KIF Kolding Kobenhavn (DEN) 36:24 (19:12)

Saturday's victory made Magdeburg completely sure of reaching the quarter-finals. The German side may still lose first place in the group in case of a defeat away against Tatabanya next Saturday, but nine points will be enough to proceed even from second position.

Magdeburg had no problems in the home game on Saturday evening. KIF Kolding Kobenhavn, who were without a chance to proceed, were missing left wing Magnus Landin, line player Cyril Viudes and defence specialist Lars Jorgensen to injury, while first-choice goalkeeper Kasper Hvidt was rested.

Kolding were only able to follow Magdeburg in the first minutes of the match, and it did not take the home team long to establish a seven-goal lead, which was also the distance at half-time.

In the second half, the Bundesliga side continued to increase their lead and ended up almost doubling the distance.

Magdeburg left back Michael Damgaard was particularly hard on his fellow Danes, scoring 11 goals.

"We knew the quality of Kolding, so we took the game very seriously from the very first minute," said Magdeburg's Yves Grafenhorst. "We had a very good tempo game, with greater effectiveness we could have won even more clearly. A serious performance and victory."

GROUP D
S.L. Benfica (POR) vs MT Melsungen (GER) 26:24 (12:14)

Benfica claimed first place in the group, two points ahead of Melsungen, when they defeated the Bundesliga team in a thriller in Lisbon on Saturday evening.

However, despite being on eight points and leading the group, Benfica cannot feel completely sure to qualify for the quarter-finals yet. If they do not keep first place, eight points may turn out not to be enough to advance from second position.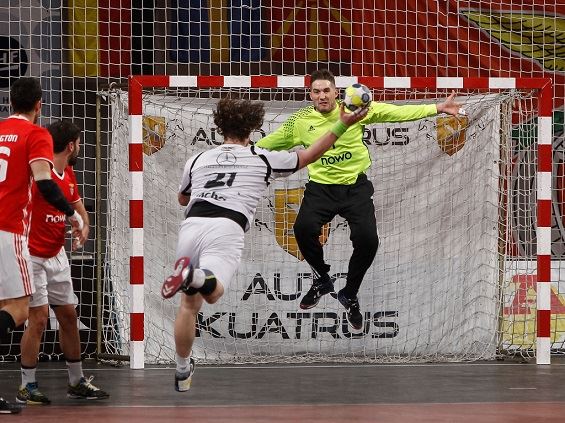 Melsungen had the better start, but it did not take Benfica long to turn the tables and move ahead 9:6 then 11:9.

Still, the visitors managed to come back at the end of the first half and lead by two at half time.

The home team soon caught up after the break though, and Melsungen had their last lead in the match at 19:18.

At 24:21 for Benfica with less than three minutes left, the match seemed to be decided, but Magdeburg came back once more and reduced the difference to one goal. Only when Fabio Antunes made it 26:24 with less than 30 seconds left was the affair finally decided.
Author: Peter Bruun / cg